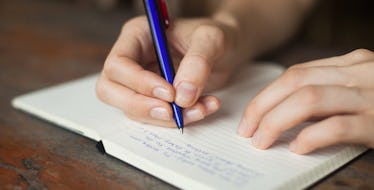 This Man Literally Broke Into A Home To Feed Cats And Write In A Diary
Shutterstock
A Canadian man was arrested after he walked into a stranger's unoccupied home and proceeded to cook, bathe and write in the diary of one of the residents.
According to the Global News, 33-year-old Christopher Hiscock of Nova Scotia recently concluded he would be fired from his job at a swimming pool company. So, he decided to embark on a new life, his defense lawyer said.
He drove to Sault Ste. Marie, Ontario earlier this month and stole a truck to drive toward British Columbia.
Last week, after he arrived in Little Fort, British Columbia, Hiscock came upon a ranch he later described as "beautiful."
The door was open, so after determining no one was home, Hiscock entered the home and completed a series of chores. He also made a fire in the fireplace, along with a meal for himself.
Mike Wong, the prosecutor, said in court,
The accused appears to have done some laundry. He also fed the cats and put out some hay for the horses. He used (the residents') toothbrush and shaver, he had taken some meat out of the freezer to thaw and he had written in their diary."
Hiscock reportedly wrote in the diary,
Today was my first full day at the ranch. I fed the cats and horses. So much I can do here I have to remind myself to just relax and take my time. I don't feel alone here, I guess with 2 cats and 3 horses it's kinda hard to be alone. Last night I had a fire in the house. It was so (peaceful). I slept like a little baby. I saw a picture in the basement on the wall of a man holding and weighing fish on a boat. Looking at him I realized we look a lot alike, but I think I'm more handsome.
The residents of the ranch came home that night to discover Hiscock sitting on their couch and drinking coffee in front of the TV. They then hailed a police car passing by.
Hiscock, who had no criminal record, pleaded guilty on Monday to possession of stolen property and being unlawfully in a dwelling house.
He apologized for trespassing in court but could not resist noting the ranch's appearance. He reportedly said,
Gorgeous. I was driving and I just turned in. Beautiful place.
Hiscock was given one-year probation and was ordered not to contact the residents of the ranch, as well as the owner of the truck he stole.
He told the court his next plan might be to head to the woods since "there's a lot of fish out there."
Citations: Nova Scotia man breaks into Kamloops home, feeds cats, watches TV, takes a shower (Global News)