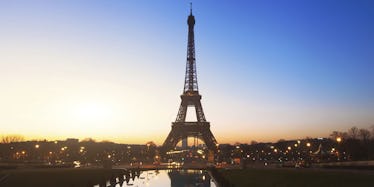 Man Behind Paris Attacks May Also Be Responsible For Failed Train Attack
Getty Images
Authorities released the identity of the man suspected of orchestrating Friday's massacre in France.
According to Associated Press, Belgium's Abdelhamid Abaaoud, 27, is believed to be the mastermind of the attacks killing 129 people and injuring hundreds more in Paris.
He may have also helped plan the Paris train attack thwarted by three Americans last August, as well as another foiled attack on a French church.
In a video released last year, Abaaoud reportedly said,
All my life, I have seen the blood of Muslims flow. I pray that Allah will break the backs of those who oppose him, his soldiers and his admirers, and that he will exterminate them.
Born to Moroccan immigrants, Abaaoud is from Sint-Jans-Molenbeek, Belgium where this weekend's murderers are said to have met and obtained rifles and explosives before driving to France, Daily Mail reports.
His multi-ethnic hometown was long known as a hotbed of Islamic extremism and a recruitment hub for youths looking to fight alongside the Islamic State in Iraq and Syria.
After fleeing Belgium, Abaaoud is said to have persuaded his brother, who was 13 at the time, to join him in Syria, according to Mashable.
A January interview with an ISIS propaganda magazine revealed Abaaoud was able to return to Belgium from Syria, even though he was a wanted criminal whose picture was seen on TV.
Abaaoud allegedly said,
I was even stopped by an officer who contemplated me so as to compare me to the picture, but he let me go, as he did not see the resemblance!
He reportedly made the trip back to Belgium to lead a terror cell in Verviers, eastern Belgium, only to see two of his alleged accomplices killed in a police raid on January 15.
Belgian police arrested seven people over the weekend, including Mohammed Abdeslam, who is believed to be the brother of an attacker who self-detonated outside a restaurant.
A third brother, Salah Abdeslam, who was also allegedly involved in the attacks, may still be at large. Salah, a 26-year-old Frenchman born in Belgium, was reportedly stopped by officers guarding the Belgian border hours after the attack but was quickly released.
Citations: 27yearold mastermind of Paris attacks also linked to thwarted train attack (Mashable), Officials say Paris massacres were planned by Belgian who once recruited his 13yearold brother to fight for ISIS in Syria and posed smiling next to decapitated bodies (Daily Mail), Belgian jihadi IDd as mastermind of Paris attacks (Associated Press)