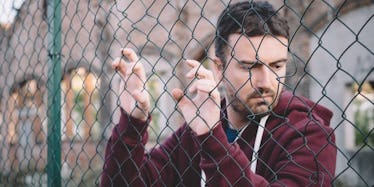 Man Arrested After He Was Caught 'Eating Out' And 'Having Sex With A Fence'
Shutterstock
If President Donald Trump is reading this article, there's a good chance he's cracking a few #BuildTheWall jokes.
Whether you agree or disagree with Trump's proposed wall or not, we can all agree on one thing: Walls are a lot tougher to penetrate than fences are. Just ask Eliodoro Estala.
The Texas man was arrested after he was caught "eating out" and "having sex with a fence" at 11:25 am on a Wednesday. The 32-year-old man was discovered by his neighbor, according to Statesman.
An arrest affidavit states Estala's neighbor Diana Vazquez saw him urinating on the fence that seperates their two homes in Austin, Texas.
After Vazquez took out her phone to record Estala, the man reportedly "took off his clothes."
The report states the man "put his mouth inside the chain link fence and stuck his tongue out moving it up and down."
Vazquez went on to further explain the lewd scene, saying Estala allegedly "was demonstrating a sexual act of eating out the fence."
The man, who was said to be intoxicated at the time, allegedly went on to "stick his erected penis into the chain link fence."
From there, he proceeded to allegedly "have sex with the fence," according to the report.
Poor fence...
When he was finally arrested, the man denied ever having sexed-up the fence. Pretending to be oblivious despite photographical evidence, he insisted he was in his apartment the entire time.
The man was booked at the county jail on a misdemeanor indecent exposure charge. If you ask me, he should also seek help for his obvious alcohol problem.
Estala has since been released after his bail was set at $2,500. He will be appearing in court for the incident.
There you have it, folks. Yet another reason why you should steer clear of excessive daydrinking.
Citations: Texan Man Caught Banging A Chain Link Fence Is Proof That We Need That Wall ASAP (BroBible)