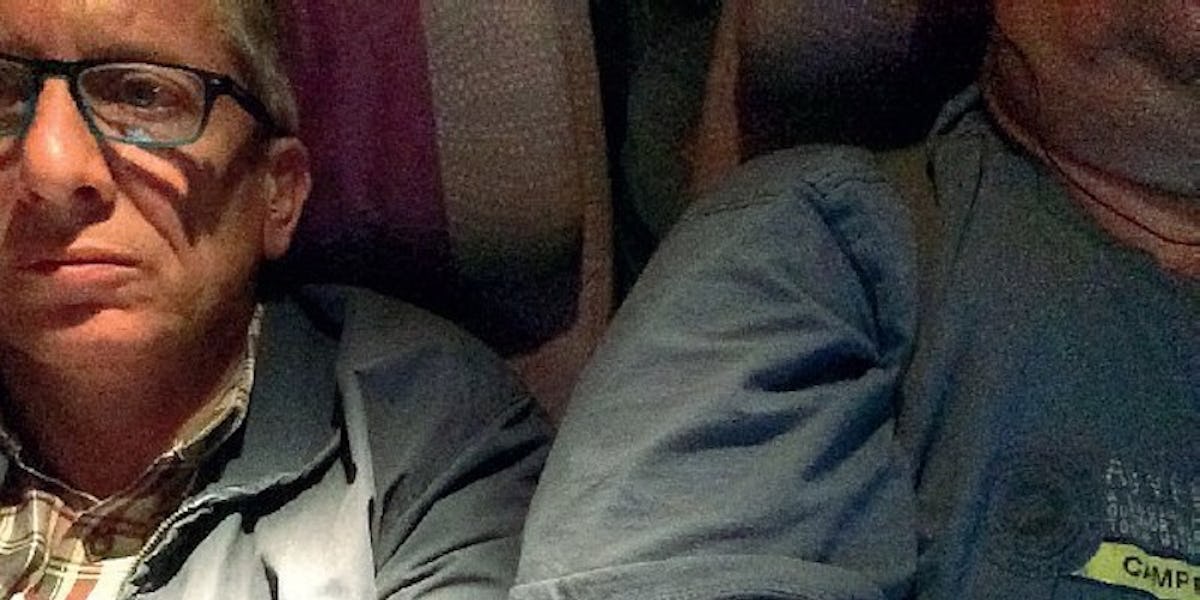 Man Says Pic Proves Airline Owes Him For Seat Next To Overweight Passenger
Facebook
Adults do the darndest things.
A lawyer named Giorgio Destro from Padua, Italy is suing Emirates airlines after he claimed an overweight passenger "ruined" his 9-hour flight from Cape Town to Dubai.
An Italian newspaper called Mattino Padova reports that Destro was not granted a new seat aboard the busy flight despite issuing a complaint due to how uncomfortable he was.
Destro, who is a "gold member" with Emirates airlines, says he never even received an apology or any form of compensation following the tight squeeze of a flight.
According to Metro, Giorgio Destro is seeking about $3,079 (£2,375) in damages due to "spillover" from the man sitting next to him.
I'll admit, I'm sure a total stranger encroaching on your personal space for nearly 10 hours can get annoying no matter how much they weigh, but I think there may have been better ways to handle the situation.
On the other side of things, Emirates airlines could have at least granted their loyal "gold member" customer a free future flight or something of that nature.
Regardless, Destro is determined to settle the score with the air carrier.
In an interview with Mattino Padova, Destro explained,
For nine hours, I had to stand in the aisle, sit on seats reserved for the cabin crew when they were free, and in the final phase of flight resign myself to suffer the 'spillover' of the passenger at my side.
So, what's Destro's evidence? A selfie, of course!
Here's why Giorgio Destro is suing Emirates airlines after an overweight passenger encroached on his personal space.
Emirates airlines has not commented on the matter. Giorgio Destro's court hearing regarding the lawsuit is set for October 20.
So, what do you guys think? Is a lawsuit completely necessary in this situation?
Citations: Man sues Emirates because he had to sit next to fat man (Metro UK)