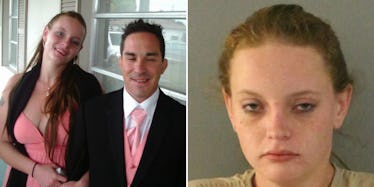 Maid Of Honor Drinks Entire Bottle Of Fireball, Nearly Hits Best Man With Car
Twitter
Everyone dreams of their wedding day. It's something my best friends and I used to talk about all the time.
We'd imagine what time of year it would be, what we'd wear, who'd we'd be marrying, who would be our maid of honor...
Naturally, your bestie is someone you want standing beside you on such a huge day.
The daydream usually doesn't end with your maid of honor (DIShonor, am I right guys?) facing several charges.
The ceremony to celebrate David and Jennifer Butler took place in Charlotte County, Florida and was beautiful, according to guests.
It's at the reception where it all went wrong.
According to guest Robert Templeton, while the bride and groom were cutting the cake and having their first dance, the maid of honor hit the bottle -- hard. He said,
She was a mess. She drank almost a whole entire bottle of Fireball.
According to the bride, Willis was drunk within 20 minutes to half an hour.
Pfft... Amateur! I can be drunk in half that time.
According to other wedding guests, Willis was asking people for their keys. Templeton said,
She just went up to the best man and grabbed his keys out of his pocket and jumped in his car.
WHERE WAS SHE GOING? THERE'S MORE BOOZE AT THE PARTY, WILLIS.
Apparently, when she backed out she almost hit the groom's brother Brian who served as THE BEST MAN as he grabbed onto the car.
Templeton added,
She took off, and his feet were dragging across the ground. He had to hit the E-brake.
Guests wrestled Willis out of the car, which is how a lot of my family's weddings begin, too.
Naturally, once safely outside of the car, she returned to get more alcohol. Jennifer said,
She went back inside. She grabbed up the big bottle of Captain Morgan and just guzzled it...
Then, like at all good weddings, she got violent. She allegedly hit Templeton upside his face and before he knew what was happening, he swung back.
Deputies were called.
When police arrived, Willis faked an asthma attack and began shaking as if she was having a seizure. By the way, this never works to get out of sticky situations.
She was taken to Bayfront Punta Gorda, where she then allegedly exposed herself to deputies (as you do), assaulted two medics and kicked over her bed pan.
Jennifer Butler says the two are no longer friends because nothing ends a friendship faster than drinking all the Fireball at your wedding and almost killing the best man.
But this ain't Amanda's first rodeo.
This is her ninth arrest in Charlotte County. If she gets one more, she'll get a free sandwich.
She is charged with larceny, battery, grand theft of a motor vehicle and violation of probation.
Citations: 'It was insane': Maid of honor turns Florida wedding into nightmare (PIX 11)