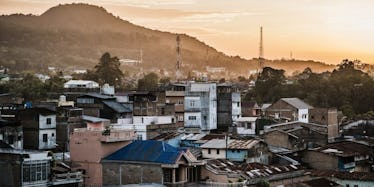 A Massive 7.8-Magnitude Earthquake Prompts Tsunami Alerts In Indonesia
Getty Images
A powerful earthquake was reported off the southwest coast of Indonesia.
The quake generated a reported magnitude of 7.8 (initially reported as even higher) and occurred earlier today in the Pacific Ocean, approximately 500 miles from land, The Guardian reports.
Startling tremors could be felt on the Indonesian island of Sumatra for at least a few seconds, causing citizens of the western city of Padang to flee their homes for higher ground.
Tsunami warnings were issued for West Sumatra and North Sumatra, along with Christmas Island and Cocos Island.
Australia's west coast was briefly under a tsunami alert as well before the bureau of meteorology withdrew the warning.
According to Huffington Post, the quake's epicenter was located just six miles below the ground, greatly increasing the likelihood of damage.
There have been no reports of damage or casualties, however, and the US Geological Survey (USGS) reportedly said there will most likely be "no affected structures."
Indonesia is located along the Ring of Fire, an area in the Pacific known for frequent seismic activity from earthquakes and volcanoes.
Along with India, Thailand and Sri Lanka, Indonesia suffered tremendous damage from a tsunami triggered by an earthquake in 2004 that killed over 300,000 people.
Citations: Tsunami Warning Issued After Magnitude 79 Tremor Hits South-East Asia (Huffington Post), Powerful earthquake strikes near Indonesia (The Guardian)