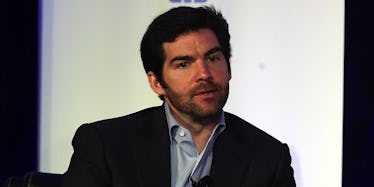 LinkedIn's CEO Gave His Entire $14 Million Stock Bonus To His Employees
Getty Images
LinkedIn CEO Jeff Weiner gave his $14 million stock bonus to employees to compensate for the company's falling stock value.
According to Mashable, an unsatisfactory earnings report from LinkedIn's holiday quarter prompted many investors to seek other options.
As a result, the social network's market value decreased more than 40 percent from around $192 to $108 in just a few days, Yahoo! News reports.
The drop likely had a devastating effect on the shares held by employees, especially those who joined last year.
But for the first time, Weiner forfeited his annual stock bonus and distributed those shares to employees to cushion their financial woes.
LinkedIn spokesman Joe Roualdes told Mashable,
Jeff decided to ask the Compensation Committee to forego his annual equity grant, and to instead put those shares back in the pool for LinkedIn employees.
Weiner recently held an all-hands meeting to assure employees the company's stock value will recover.
He reportedly said,
We are the same company we were the day before our earnings announcement. I'm the same CEO I was the day before our earnings announcement. You're the same team you were the day before our earnings announcement. And most importantly, we have the same mission, vision, and sense of purpose in terms of our ability to create economic opportunity. None of that has changed. It hasn't changed one iota.
Twitter CEO Jack Dorsey also forfeited a portion of his stock following his company's collapse in market value.
In October, Dorsey revealed he would give one-third of his considerable stake in the company to employees.
I'm giving ~1/3rd of my Twitter stock (exactly 1% of the company) to our employee equity pool to reinvest directly in our people. — Jack (@jack) October 23, 2015
Dorsey's move came after Twitter stock prices reached numerous all-time lows over the previous months.
Twitter's plunge, which was much worse than LinkedIn's, additionally led to a round of layoffs.
Citations: LinkedIn CEO gives away his $14 million bonus to employees after its stock collapses (Mashable), LinkedIn's CEO gives his $14 million stock bonus back to employees to make up for plunge (Yahoo! News)