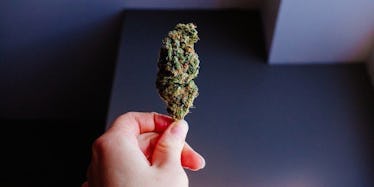 Puff, Puff, Pass: You Can Officially Buy Recreational Weed In Oregon
Marijuana for recreational purposes is officially on sale in Oregon.
According to Yahoo! News, sales began midnight on Thursday at some of Oregon's medical marijuana dispensaries since recreational dispensaries aren't expected to open until next year.
Customers must be at least 21 years of age and are limited to buying up to a quarter of an ounce (seven grams) of marijuana. The weed will be untaxed until January, but then, taxes will reportedly raise prices by about 20 percent, ABC News reports.
Retail regulations for edible marijuana products are not yet in place, so such products can only be purchased by Oregon residents with medical marijuana cards.
Oregon and Alaska voted to legalize the sale of marijuana for recreational purposes in 2014.
Possessing and growing marijuana in small operations, on the other hand, has only been legal in Oregon since July, putting dispensaries at risk for shortages.
Many dispensaries, such as Shango Premium Cannabis and Green Oasis Dispensary in Portland, gave special offers and discounts for the first customers.
Shango's first 25 customers were given a 35 to 40-percent discount on marijuana purchases, ABC News reports, while Green Oasis treated customers to a live band and 10-percent discounts for purchases of at least $40.
Of recreational sales, Shango Premium Cannabis cofounder Shane McKee told ABC News,
I think it's not only historical for folks in Oregon but nationwide — anytime people start selling [marijuana] as an alternative to alcohol or tobacco.
Oregon marijuana users are legally prohibited from smoking in public, in their cars and while driving, according to TIME.
Employers can also still randomly drug test employees for marijuana and seemingly penalize them to their likings.
The state is largely divided about marijuana, even in the progressive mecca of Portland where lawmakers are looking to limit the number of dispensaries.
Recreational marijuana dispensaries are even banned in about 30 Oregon municipalities, Yahoo! News reports.
Some minds might change, however, after Oregon rakes in its expected $10.7 million in revenue over the next two fiscal years.
Recreational marijuana is additionally for sale in Washington and Colorado, the latter of which reportedly made approximately $70 million from marijuana taxes.
Citations: Oregon becomes third U.S. state to allow recreational marijuana sales (Yahoo! News), Recreational Pot Users Score Bags of Bud at Oregon Shops (ABC News), 5 Things to Know About Recreational Marijuana Sales in Oregon (TIME)