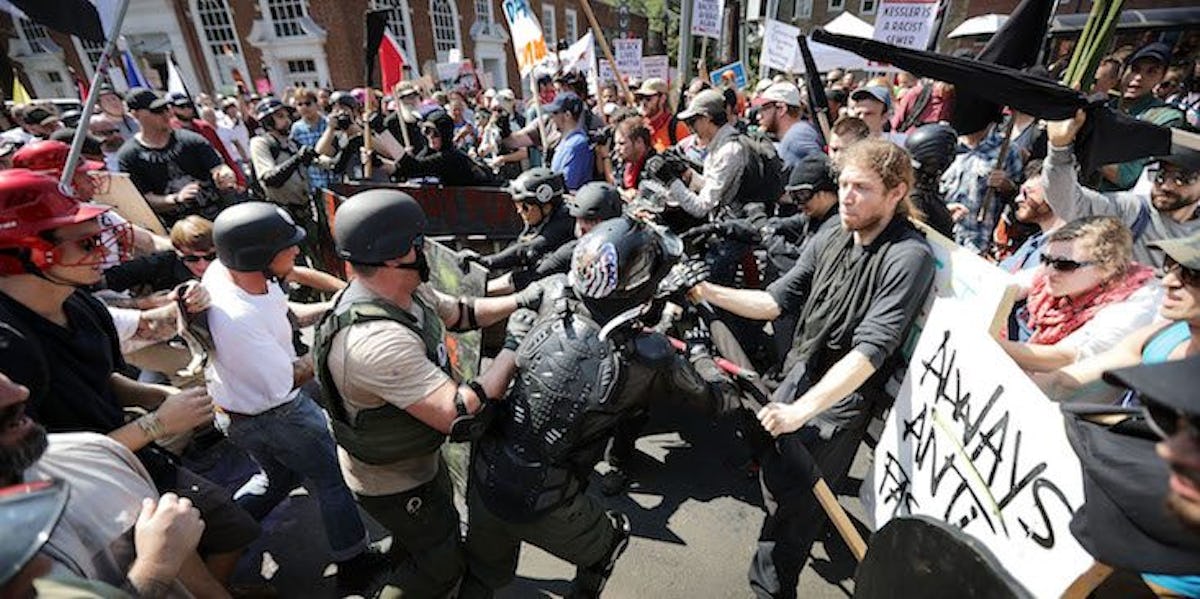 Leaked Chats Show That Charlottesville Violence Was Planned In Advance, Report Says
Chip Somodevilla/Getty Images
Photos and videos from Charlottesville, Virginia on Aug. 12 showed a terrifying scene. Images showed white supremacists wearing combat gear — some legit, some makeshift — facing off against counter-protesters, fighting with sticks and clubs, or beating a young Black man in a parking garage. Many thought there was no way the outburst of violence could have been spontaneous. And it looks like they were right. A series of leaked chats transcripts show that the Charlottesville violence was planned, according to a new report.
About 1,000 screenshots of chats from before the rally allegedly show participants of the Aug. 12 "Unite The Right" rally in Charlottesville openly planning violence, sharing photos of themselves with weapons or debating the ideal thickness of PVC pipes to "thump" counter-protesters, according to Talking Points Memo.
Even worse — some of the posts "joke" about driving cars through crowds of counter-protesters.
A "Unite The Right" attendee is accused of doing exactly that in Charlottesville, killing counter-protester Heather Heyer, 32, and wounding 19 more people.
The screenshots were collected by Unicorn Riot, a non-profit media outlet which describes itself as "volunteer-operated [and] decentralized," composed of journalists and multimedia artists. The chats come from a private server operated by alt-right organizers, including Jason Kessler and Eli Mosley, inside the chat app Discord. Mosley told Wired that the documents appeared legitimate, though he added that he didn't trust the source. He said that organizers repeatedly urged attendees to remain peaceful, and that he banned people for advocating violence.
The posts could come back to bite the people behind them.
Two women who were injured in the counter-protests are suing both the rally's organizer and more than two dozen groups and individuals affiliated with the alt-right and the violence in Charlottesville, according to The New York Times, and these posts and photos could bolster their case. The lawsuit, which seeks $3 million in damages, accuses the individuals and organization of "engaging in a civil conspiracy" to sponsor violence and terrorism. Their lawyer, Timothy Litzenburg, told Wired that the posts showed that organizers intended violence and said that they could be the "crux of the case."
The First Amendment protects the right to free speech — even hate speech and white supremacy — but it stops short of speech that incites violence.
That, pretty clearly, is not protected. 1927's Supreme Court case Whitney vs. California ruled that speech could be suppressed if "serious evil will result." The majority ruling found,
to justify suppression of free speech, there must be reasonable ground to fear that serious evil will result if free speech is practiced. […] There must be reasonable ground to believe that the danger apprehended is imminent.
Of course, the level at which speech will incite "imminent" danger is debatable. Speech about preparing flagpoles dotted with screws to beat protesters and "jokes" about running counter-protesters over with cars, though?
Seems like it fits the definition to me.