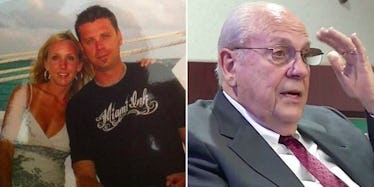 Retired Cop Shoots And Kills Man In Movie Theater For Throwing Popcorn At Him
Facebook/WFTS
A retired police officer who shot a man dead inside a movie theater because he was texting during the previews will go to trial.
Curtis Reeves, 74, pulled out a handgun and killed 43-year-old Chad Oulson at the theater in Tampa after Oulson threw a bag of popcorn at him.
Lawyers for Reeves had claimed the former Tampa police captain should not face charges under Florida's controversial "stand your ground" defense.
However, he has been charged with second-degree murder after Judge Susan Barthle decided the law does not apply for the case.
The incident happened in January 2014, when Reeves confronted Oulson. He was texting his daughter's babysitter during the previews before the viewing of "Lone Survivor."
The two men began arguing, and Reeves left the theater to complain to an employee.
But they continued arguing when he returned.
When Oulson threw a bag of popcorn at the former police captain, Reeves shot him in the chest. The bullet also struck Oulson's wife, Nicole, in the hand.
Reeves had claimed he was acting in self-defense after he was either punched in the face or hit with a cell phone.
He testified,
I realized I was in a life-or-death struggle. He was no longer a loudmouth, he was a definite threat. He was reaching for me. He was getting ready to punch me. I perceived that. That's when the pistol came out.
Florida's "stand your ground" law allows residents to use deadly force when they fear death, and is infamous for its role in the trial of George Zimmerman, who killed unarmed black teenager Trayvon Martin.
However, Judge Barthle ruled Reeves was not acting in self-defense when he fired the gun at Oulson.
The judge said surveillance footage from inside the theater did not support Reeves' testimony, even though it did show Oulson throwing the popcorn.
A trial date has not yet been set, WFTS reported.
As well as second-degree murder, Reeves – who is free on bond – was also charged with aggravated battery for hitting Nicole Oulson with the shot.
Dino Michaels, a member of the defense team, has said Reeves will appeal the ruling.
Citations: WFTS