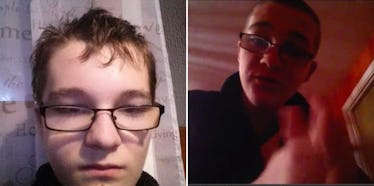 14-Year-Old Found Dead Days After Posting Eerie Video Venting About Bullies
Facebook/YouTube
A teenage boy has been found dead less than two weeks after he spoke passionately about bullying in an emotional YouTube video.
Police in Scotland are investigating the death of 14-year-old Liam McAlpine, who openly criticized how Glenrothes High School handled bullies.
In February, the teen uploaded a YouTube video where he urged people to get help if they were being picked on.
And in a separate YouTube video entitled "Coming out," Liam revealed he was gay and predicted abuse would come his way.
He was found dead in his bedroom on Sunday by his father.
In the "Bullying" video, he says,
You don't go to school to get bullied every day. You go to learn. School is meant to be a safe place but getting bullied every day and picked on, is that really safe? You do nothing about the fucking bullying in the school. If it's reported, it's 'oh, we'll talk to them' but they'll do it again and you won't fucking do shit. You're fucking arseholes, you know that.
He also urged his high school in Fife to "get their act together and get this bullying sorted."
In the other clip, he came out as gay, but appeared to accept he would be targeted by bullies because of his sexuality.
His death prompted an emotional tribute from his sister, Chelsea, who wrote on Facebook,
RIP, Liam. You were the best and only brother I had I love and miss you so much. Wish you were still here, you meant the world to me. I am so heartbroken without you Liam, dunno what to do anymore. I just wanna be up there with you.
Schools across Fife revealed this week they are launching a major crackdown on potentially dangerous prescription drugs that are reportedly being shared among students.
Police said Liam's death is currently "unexplained" and the investigation will continue.
Friends and family have already planned a walk in memory of the teen, from the high school to a local park.