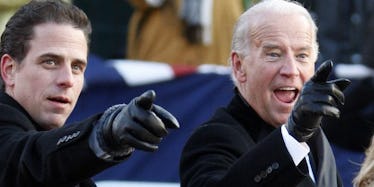 Joe Biden's Son Is Dating His Brother's Wife And Twitter's Really Weirded Out
REUTERS
The Biden family tree just got an expected twist, and we're all scratching our heads in bewilderment.
Joe Biden's son, Hunter, confirmed he's dating his late brother's widow in a statement to the New York Post on March 1, CNN reports.
I know this is a lot to process, so I'm going to break it down for you: Joe Biden's older son, Beau, died in 2015 after a battle with brain cancer, leaving his wife, Hallie, a widow.
However, Joe's youngest son, Hunter, is now in a romantic relationship with Hallie — aka, his sister-in-law.
In other words, Hunter Biden is dating his brother's widow... and Twitter is a little confused.
Before you get too weirded out about Hunter's decision to date his late brother's widow, understand Joe Biden and his wife are in full support of their son's newfound relationship.
Joe Biden commented on his son's romantic endeavors and said,
[He and his wife] are lucky that Hunter and Hallie found each other as they were putting their lives together again after such sadness. They have mine and Jill's full and complete support and we are happy for them.
Hunter also commented on his controversial relationship with Hallie and said,
Hallie and I are incredibly lucky to have found the love and support we have for each other in such a difficult time, and that's been obvious to the people who love us most. We've been so lucky to have family and friends who have supported us every step of the way.
Even though Hunter has the support of his parents, Twitter is definitely having trouble accepting the fact he's romantically involved with his brother's widowed wife.
"Wtf?"
"Wow."
"Kinda whacky to me."
Regardless of what Twitter thinks, Hunter has his parents' blessings, and that's really all that matters.
This is a family situation, and if the family members involved are OK with what's going on, then let 'em do their thing.
Citations: Beau Biden's widow having affair with his married brother (New York Post), Beau Biden's brother, widow in romantic relationship (CNN)