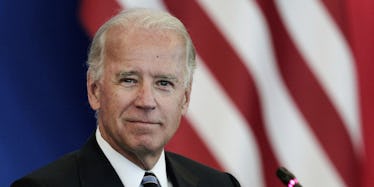 Joe Biden Wrote A Letter To His Younger Self That Will Give You All The Feels
REUTERS
Vice President Joe Biden, now 73, has lived a remarkable life.
At just 29 years old, he became one of the youngest people ever elected to the senate, going on to represent Delaware for 36 years before becoming the 47th Vice President of the United States alongside the first black president in American history.
But that doesn't mean things have always been easy for him, as he's faced multiple heartbreaking tragedies in his life.
Not long after he was elected to the senate, his wife and 1-year-old daughter were killed in a horrific car accident, and his two young sons were injured. Years later, during his tenure as vice president, his son Beau tragically passed away from brain cancer.
This is a man who knows what it means to suffer, but he hasn't let it break him or deter his desire to serve the public.
As part of the CBS series "Note To Self," Vice President Biden recently wrote a letter to his 12-year-old self, highlighting both the brightest and darkest moments in his life.
His words are a testament to the fact that no matter how hard things may seem, there are always reasons to keep fighting and strive forward.
The vice president wrote,
One day you'll be on top of the world, only to be brought down in a flash with a profound loss and a grief that leaves a black hole in your heart, questions of faith in your soul and an anger, anger beyond rage. That's when you'll have to dig deep and live what mom taught you - that out of everything terrible that happens, something good will come if you look hard enough. You'll hold on with faith and pure grit... You'll realize that countless people have suffered equally or more, but with much less support and much less reason to want to get back up. But they do, they get up. They keep going. And so must you.
Indeed, life is full of ups and downs, but the highs we experience wouldn't be as fulfilling if they weren't complimented by the lows.
We survive and thrive by keeping things in perspective.
Watch Vice President Biden read his "Note To Self" in the video above.