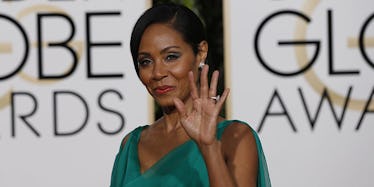 Jada Pinkett Smith Actually Predicted The Dallas Shooting Before It Happened
REUTERS
The shootings that have occurred in Dallas, Baton Rouge and Minnesota may have all been isolated events, but there's no denying that there was a fear that one might lead to the other.
Some might say that it was only going to take so long until one group felt it was being attacked so much, some individuals would try to take matters into their own hands in a devastating way.
Others might say it was only a matter of time until a heated rhetoric that revolved around discussing the police would make officers a target. In both cases, a worst case scenario was feared, and – sadly for those who held those sentiments – predicted.
Jada Pinkett Smith appears to be one of those for whom the worst seemed inevitable, especially when you consider the very brief comments she offered TMZ before the shooting in Dallas.
After being asked what she thought of the shootings in Minnesota and Baton Rouge, Pinkett Smith said,
Here's what I know. We gotta do something because at the end of the day, it can't keep happening. Desperate communities do desperate things.
These ominous comments seem poignant today, which is the third straight day of the week that Americans have woken up to terrible news. The Thursday night shooting in Dallas claimed the lives of five officers.
Citations: Jada Pinkett Smith -- Backlash Against Police Sadly Predictable (VIDEO) (TMZ)