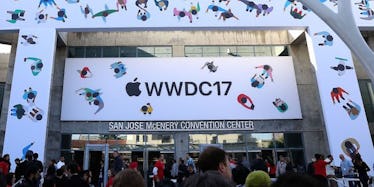 Your iPhone Will Soon Get An Update That Could Help Save Lives
Justin Sullivan/Getty Images
The iPhone's operating system is getting an update this fall.
On Monday, Apple CEO Tim Cook announced iOS 11 at WWDC 2017, unveiling a range of new features iPhone and iPad users can soon enjoy, including an update that could help save lives.
Apple's iOS 11 aims to improve safety for anyone behind the wheel of a car, and includes a "Do Not Disturb While Driving" feature.
This automatically detects when you're driving, blocks text messages, and features automatic responses. So it's aimed at limiting distractions for anyone operating a vehicle.
If someone really needs to get in touch with you, they have the option of replying with "urgent."
According to the Centers for Disease Control and Prevention (CDC), over eight people are killed and 1,161 injured in crashes that are reported to involve a distracted driver every single day in the United States.
In the CDC's words,
Distracted driving activities include things like using a cell phone, texting, and eating. Using in-vehicle technologies (such as navigation systems) can also be sources of distraction. While any of these distractions can endanger the driver and others, texting while driving is especially dangerous because it combines all three types of distraction.
Long story short, if people use the "Do Not Disturb While Driving" feature via iOS 11, it could help prevent fatal car accidents.
Forty-six states, D.C., Puerto Rico, Guam, and the U.S. Virgin Islands ban text messaging for all drivers, but many do not fully adhere to these laws and no state bans all cell phone use for all drivers.
In February 2017, AAA released a report that showed 40.2 percent of drivers had read a text message or email while driving in and nearly a third (31.4 percent) typed one in the past 30 days.
Young people, in particular, seem to be at risk of texting-while-driving.
Drivers aged 19-24 are more likely to report texting while behind the wheel and to view it as acceptable, according to AAA.
So, even though most states ban texting while driving, and most drivers (81.1 percent) agree it's "a very serious threat to safety," the practice continues.
This is exactly why Apple's new effort to limit texting-while-driving is so commendable.
People took to Twitter to applaud Apple for making this change, referring to it as "the most important thing for public health they've ever done."
Apple's iOS 11 also adds new improvements to Maps for when you're driving, including lane guidance and speed limits for when you're driving in an area you're not too familiar with.
So, it seems the impending iPhone update could make driving a lot safer for everyone.
Citations: Apple announces iOS 11 with over 10 new features (The Verge)