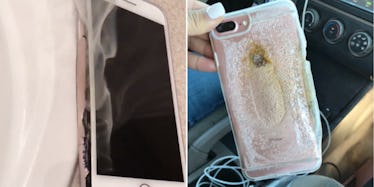 iPhone Explodes In Scary Viral Video And Apple Says It's Investigating
Twitter
This iPhone is smokin' hot, for all the wrong reasons.
Worrying footage has emerged of an iPhone exploding, and the teen who owns it claims she wasn't even using it when the phone's case started slowly melting away.
Like, imagine that happening in your hands. Or in your pocket. Legit scary stuff.
Brianna Olivas's boyfriend managed to film the moment her device went up in smoke — and, well, watch it for yourself if you need something else to be anxious about in this crazy world.
Apple has confirmed it is conducting tests to determine what the hell happened.
Brianna's iPhone isn't some old model that's given up after a few years of loyal service — it's a rose gold iPhone 7 Plus, which she bought from Sprint in January.
The 18-year-old from Tucson, Arizona, told Mashable her phone wouldn't turn on, so she took it to an Apple Store.
Workers ran tests and told her everything was fine, just a day before it blew up.
She said,
The next morning I was asleep with my phone charging next to my head, my boyfriend grabbed the phone and put it on the dresser. He went to the restroom and from the corner of his eye he saw my phone steaming and (heard) a squealing noise. By the time he got over to the phone it had already caught fire, he quickly grabbed the phone and threw it in the restroom. As soon as he threw it in the restroom it blew up and more smoke started coming out of the phone.
The video has been seen more than a million times, which is obviously a bad look for Apple.
However, there's no evidence whatsoever to suggest this is a widespread problem among iPhones.
It's not yet known what caused the device to start smoking, but one theory going around on Twitter is Brianna's case, which was filled with liquid, is partly to blame.
Apple has the remains of Brianna's phone and is looking into the incident.
Citations: Apple to investigate iPhone 7 that 'blew up' (Mashable)