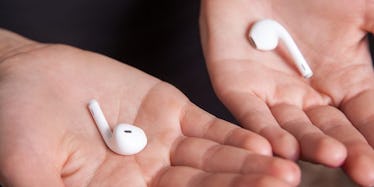 Apple's iPhone 8 Might Come With This Convenient Accessory, So Listen Up
Shutterstock
There's another rumor swirling around the release of Apple's iPhone 8 that'll perk your ears right up, so make sure your AirPods aren't blasting Harry Styles too loudly.
If you're accustomed to walking around with your iPhone and its wired earphones, chances are you've gotten them tangled.
(Don't lie, we've all been there.)
I'm willing to bet they've ended up in one huge knot at the bottom of your bag, and you've gotten so disgusted after untangling them that you don't even want to listen to iTunes anymore.
We can't blame you. The struggle is certainly real, but guess what?
Apple might include AirPods with the release of the iPhone 8.
Sounds fantastic, right? (See what I did there?)
All the tangled troubles that come with your iPhone 7's wired EarPods will seem like a distant dream. However, if you've already purchased a pair of AirPods, you'll be pleased to find out Apple might provide you with another pair when you buy the iPhone 8.
Picture this: No chords, no hassle, no problem! Right?
Well, come to think of it, Mashable presents us with quite a few issues that might come along with including AirPods with the iPhone 8 orders.
For one, the AirPods are so popular on their own, they've been delayed up to six weeks after customers place their orders. Six weeks — for headphones!
Combined with the anticipation for the new, 10th-anniversary edition of the iPhone, your gear might never make its way to you.
According to 9to5Mac, Apple analyst KGI Ming-Chi Kuo believes mass production of the OLED iPhone 8 will most likely be pushed to October or November (not September like we originally thought).
So if we have a delayed phone and its delayed accessories, you might as well just put this on your 2018 Christmas list because Santa and his elves might not be able to provide for this year's holiday season.
Also, let's not forget the AirPods are a whoppin' $159. This will surely increase the price of the already expensive iPhone 8.
Of course, there are both pros and cons to this Apple news, but let's not forget — you might tangle the EarPods, but you could very easily lose the AirPods.
So yes, it's definitely a glass half-empty, half-full kind of situation... or iPhone half-charged, half-uncharged, if you will.
Citations: The iPhone 8 may actually come with Apple's best accessory (Mashable)