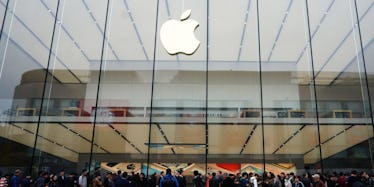 The iPhone 7 May Come In 4 Different Colors, According To This Leaked Photo
REUTERS
Earlier this week, leaked photos seemed to suggest that the iPhone 7 might not be as sleek as some might have hoped, due to a large camera bump. (Although, this also means better photos, so the glass is half full.)
But if you were upset about this, we have some good news that might cheer you up. This is also the result of a leaked photo, which was obtained by the Italian blog, Macitynet. Ready?
THE NEW IPHONE WILL BE AVAILABLE IN FOUR DIFFERENT COLORS.
Life is better with options.
It would be nice if the colors were a bit more flamboyant, in order to truly represent our colorful personalities. Or perhaps they could have included a black one to represent the darkness in our souls. But I guess we can't have it all.
But there is still hope. So, perhaps this leaked photo – even if it truly depicts the color options the new iPhone will be available in – doesn't tell the whole story. In other words, we might see a few more colors available once the phone finally gets released. (It's expected in September.)
In the meantime, we can all distract ourselves with Pokémon Go. But play safely, my friends.