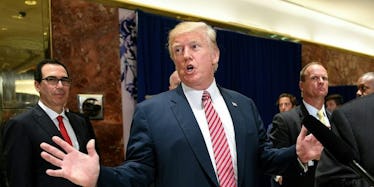 The Internet Is Having A Field Day Imagining Trump Watching The Solar Eclipse
JIM WATSON/AFP/Getty Images
Even when a once-in-a-lifetime event like a solar eclipse happens, people can't get over thinking about President Donald Trump. Nor can they get over tweeting about it. So it's no surprise that Twitter reacted on Monday with tweets and memes about Trump watching the eclipse.
Especially after the events of the last several days, which saw the country erupt in protests following the white supremacist rally in Charlottesville and reel from devastating terrorist attacks abroad, humor was a welcome respite for many. And for a solar event, which can bring about metaphysical questions, astrophysical inspirations, and existential crises, there was no shortage of jokes about the president.
For a while, it was unclear whether Trump would even be watching the eclipse. But on Monday, The Hill confirmed he would be viewing it from the White House's Truman Balcony alongside Melania. It is, after all, something that happens once every few decades. In fact, the next time we'll see an eclipse on a coast-to-coast trajectory like this is the year 2045, and the last time the 48 continuous states were able to view it was 1979. So whether you live streamed the eclipse or saw it in person as it was unfolding, we've got a roundup of the best Twitter has to offer.
While some users took note of the Obama-Trump comparison, others focused on the trajectory of the eclipse's path. (Which, according to the Boston Globe, actually cut across a staggering amount of Trump-voting locales.)
While there was speculation as to whether the president would in fact watch the eclipse, one user made a metaphysical joke.
Some users made hilarious predictions about what the president would say about the movement of the sun and moon, making a play on his classic fixation on winners and losers.
Some users took the chance to make a comment on the president's use of executive orders -- this one, based on building a wall.
Yet another tweet zeroed in on Trump's executive-order obsession with a doctored photo, this time referencing his transgender military ban.
Others made a jab at the fact get eye damage from looking at the eclipse (which has been warned about by scientists for a while now, with lots of proof to back it up).
The blindness metaphor turned out to have a lot of joke potential.
Lest we forget this magical moment between Trump and other world leaders.
And because Twitter couldn't resist making one more crack at Trump's now-famous "many sides" speech after Charlottesville, this happened.
Once there were actually photos of the First Family watching the eclipse from their White House balcony, Twitter just about lost it.
Seriously, Twitter was obsessed with these photos of Trump jokingly looking at the sun while Melania was donning her eclipse glasses. Jokes about him looking at the sun were cropping up everywhere.
They say a picture is worth a thousand words. Only time will tell how long it'll take to live this one down.
Just to give an un-doctored look at what Twitter is seeing, here's a comparison tweet by NBC, where Trump is shown taking "a peek" at the sun without protection.
Welp. Are you surprised?