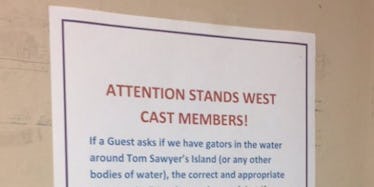 Intern Gets Fired After Calling Out Disney In This Tweet About Alligators
Twitter
A Walt Disney World intern was fired after she tweeted a sign ordering staff to give a certain response to questions over alligators. That sign has emerged.
Shannon Sullivan said she felt morally obliged to share the notice that instructed if guests ask whether there are alligators in the waters around Tom Sawyer Island, staff should say,
Not that we know of, but if we see one, we will call Pest Management to have them removed.
The sign added,
Please do not say that we have seen them before. We do not want our Guests to be afraid while walking around Frontierland.
Shannon said she was let go from the Disney College Program after the notice got international attention, reports the Orlando Sentinel.
She told the news website,
I was very offended by it and I was pretty vocal about it. At this point it became my morals and my integrity and what I believe in. I thought if I lose my job because of that, it's worth it to me.
The news site reports Magic Kingdom Vice President Dan Cockerell visited Shannon at her home to personally offer her job back on Friday.
Disney stressed the sign had been put up without proper authorization. It added no one is being disciplined over it.
The sign was put up in the aftermath of the Lane Graves death. The 2-year-old was snatched by an alligator while playing in the water at Disney World's Grand Floridian Resort back in June.
Citations: CBS News