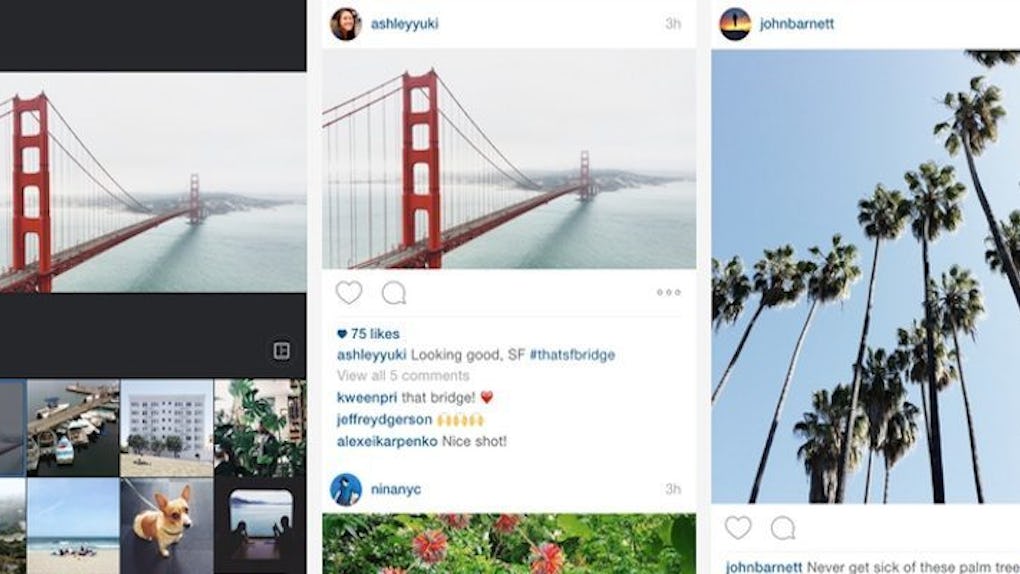 Instagram
Finally! Instagram Just Added New Landscape And Portrait Options
Just when I thought I didn't have any more of my soul to give, Instagram announced it is about to make me its bitch for life.
On Thursday, the photo-sharing app declared users will now be able to post portrait and landscape photos and videos.
In a press release, the Facebook-owned entity said,
Square format has been and always will be part of who we are. That said, the visual story you're trying to tell should always come first, and we want to make it simple and fun for you to share moments just the way you want to.
Rather than downloading extra apps to add borders and negative space to a photo to fit every bit into Instagram's 1 x 1 square, users can upload their snaps without worrying about cutting off important photo elements.
Once users upload their pictures to the app, the full-size photos will appear on their friends' feeds, and cropped versions will appear in a square only on each user's personal page.
Instagram added,
We know that it hasn't been easy to share this type of content on Instagram. Friends get cut out of group shots, the subject of your video feels cramped and you can't capture the Golden Gate Bridge from end to end.
The news is big for videos as well. Portrait-styled photos and videos, like those saved from Snapchat, will no longer be sliced in half when uploaded to Instagram.
Take the week to say goodbye to any part of you that wasn't already devoted to this app.
Citations: Instagram Just Made Its Biggest Change Ever (TIME)