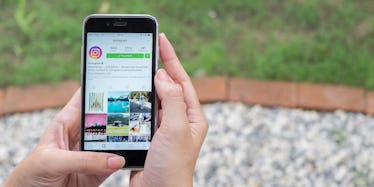 The Instagram Update We've All Been Waiting Years For Is Finally Here
Shutterstock
It's about time. Seriously, I can't believe no other social media platform has come up with anything similar, but Instagram's latest feature is a lot more innovative than it seems on the surface.
According to Cosmopolitan, Instagram may soon allow all users to filter, turn off and effectively moderate comments on their own profiles and photos. In doing so, the company can effectively exit debates about online harassment and issues of free speech on social media.
In other words, if people can moderate and control their own profiles, it's a lot harder to blame Instagram for any hate speech or offensive statements that pop up in comments on your photos.
Of course, Instagram still has its part to play in making sure its platform isn't full of virulent trolls and extreme verbal harassment, but this is definitely a brilliant step in the right direction.
Not only that, but this change also empowers users, which is never a bad thing, ever. And in this particular case, according to The Washington Post, the degree of control is huge: A user can turn off comments for his or her entire account, or the user can decide to turn off comments on a post-by-post basis.
It seems the only downside so far has to do with the rollout of this feature. As of right now, it's only available to high-volume comment threads, which basically means your average person is out of luck for the moment.
Nicky Jackson Colaco, Instagram's head of public policy, told The Washington Post,
Our goal is to make Instagram a friendly, fun and, most importantly, safe place for self expression. We have slowly begun to offer accounts with high volume comment threads the option to moderate their comment experience. As we learn, we look forward to improving the comment experience for our broader community.
So yeah, it sucks the feature isn't available to all Instagram users yet. The Post does report all users will see changes in their comments over the next few months, though it's not clear if Instagram ever intends to roll out the feature to its entire community.
It would appear based on Colaco's statement that if this moderation feature is successful in its test period, we can all expect to get it over the next year.
But more importantly, if the feature is successful, seeing as Facebook owns Instagram, I'm guessing this type of comment moderation could become a feature on the largest social network in the world, too. Facebook has comments that work in the same way as Instagram's and it already allows some degree of moderation of comments, so only time will tell.
Hopefully, something like this that empowers users will find its way to all social media platforms sooner rather than later because the stakes of online harassment are already too high.
Citations: Instagram *Finally* Added a Feature You've Been Dying For (Cosmopolitan), Instagram will soon let you filter comments on your own account (The Washington Post)