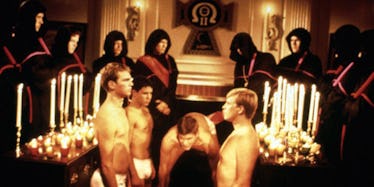 Fraternity Suspended For Hazing Video Of Possible Sexual Assault
Universal Pictures
An Indiana University fraternity was suspended after a video seemingly depicting a bizarre, sexual hazing ritual was posted.
According to NBC News, Alpha Tau Omega must refrain from hosting activities and sponsoring new recruits as the chapter is being investigated for "allegations of hazing activities which perpetuate sexual misconduct," IU spokesman Mark Land said.
The Washington Post reports the 29-second clip was posted to Twitter at 7:38 pm last night by an account called @ATOVideo, and this tweet came shortly after.
The footage is said to be circulating on Twitter but is too graphic to post.
It features a group of young men who seem to be wearing only their underwear and another group of fully-clothed men watching a reported pledge perform oral sex on a naked woman.
Alpha Tau Omega's national office stated it is assisting the university in its investigation.
Wynn Smiley, CEO of the fraternity, told The Indianapolis Star,
The video is highly offensive and is antithetical to the values of Alpha Tau Omega. If confirmed, the men who were a part of such an outlandish incident do not represent the fraternity and damage the fraternity's name for thousands of other ATO undergraduates and alumni across the country.
Alpha Tau Omega's Indiana University chapter got in trouble over hazing at least twice before.
Update: According to CNN, the national ATO organization shut down the chapter.
Citations: Indiana Universitys Alpha Tau Omega Suspended Over Alleged Hazing (NBC News), Indiana University fraternity suspended after video surfaces of apparent hazing sex act (The Washington Post), Indiana University fraternity suspended after video surfaces (The Indianapolis Star)