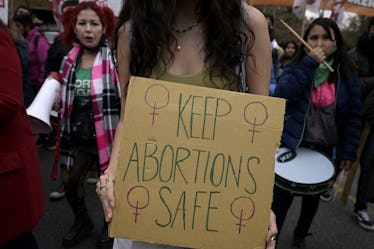 What Happens Now That The Supreme Court Overturned Roe v. Wade?
JUAN MABROMATA/AFP/Getty Images
It's been a wild year for reproductive rights, and not in a good way. On June 24, the Supreme Court officially announced its decision to overturn the landmark 1973 abortion case, Roe v. Wade. Now, the nation has quickly returned to a state-by-state patchwork of laws for abortion access, meaning millions of people across the country no longer have feasible access to the reproductive care they need. There are no more hypotheticals – this is the reality in the United States. So, here's what's happening across the country after the Supreme Court overturned Roe v. Wade.
In short, now that Roe has been overturned, a person's access to a legal abortion now largely depends on what state they live in. According to the reproductive rights think tank The Guttmacher Institute, 26 states harbor laws that either ban or severely restrict legal access to abortion in the absence of Roe: 13 of those states carry "trigger" laws that are quickly working to gut abortion rights; and nine states (Alabama, Arizona, Arkansas, Michigan, Mississippi, Oklahoma, Texas, West Virginia, and Wisconsin) all have pre-Roe abortion bans that can now be enforced after Roe's overturn. That's all in addition to new abortion bans and restrictions that have been passed since, but blocked by courts due to the precedent of Roe – 12 states have laws prohibiting abortion after six weeks of pregnancy, while five states have anti-choice laws that amount to a near-total ban on abortion.
In contrast to the 26 states with restrictions, several states affirm a person's right to abortion within their borders. Even before the 1973 decision, abortion was legal in some circumstances in only a handful of states, and New York, Washington, Alaska, and Hawaii had repealed their anti-abortion laws entirely. Now, as of June 2022, four states plus Washingon, D.C. protect the right to an abortion throughout pregnancy, while 12 states protect the right to an abortion prior to fetal viability, which occurs around 24 weeks. So people who live in states like California, Connecticut, Delaware, Hawaii, Maine, Maryland, Nevada, and Washington would likely still have access to legal abortion, even without Roe.
While abortion access remains legal in parts of the country, it's a cold comfort to people in areas where it's quickly becoming illegal. Pregnant people seeking abortions could be forced to travel hundreds of miles to get to a state where the procedure is legal in order to terminate an unwanted pregnancy, and that's if they have the money, time, and support to do so. For example, should a total abortion ban be allowed to go into effect, a person in Louisiana would have to travel over 660 miles — one way — to get to the nearest state allowing abortion, per Guttmacher.
But even though Roe has officially been overturned, that doesn't necessarily spell a permanent end to national abortion rights. Roe is a Supreme Court ruling based on the court's interpretation of the due process clause of the 14th Amendment, not an actual law — which means that yes, Congress could in fact pass a law, or laws, securing legal abortion around the country. The Women's Health Protection Act (WHPA) was perhaps the nation's most promising opportunity to federally codify the legal right to abortion in the United States. First introduced in the House of Representatives in 2013, the WHPA was a bill that would expressly confirm the right to abortion and prohibit medically unnecessary restrictions like mandatory waiting periods or medically inaccurate "counseling." While the bill passed in the House along party lines in September 2021, it failed in the Senate on Feb. 28 after it did not reach the chamber's 60-vote threshold to break the filibuster.
Studies have continually shown that being denied abortion care can have devastating effects: "We don't have to imagine what happens when people are denied abortion," Diane Greene Foster, principal author of the Turnaway Study, told Elite Daily in a June 24 statement. "When people are unable to get wanted abortions, there are profound risks to their health and economic security, as well as a shift in the trajectory of their lives, with negative effects on their relationships, aspirational plans, and the wellbeing of their children," she added. "People will still need abortion care, but this Supreme Court decision means that those who don't have the means will experience lasting harm."
This article was originally published on