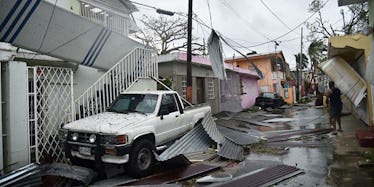 Hurricane Maria Is Getting Even Stronger And Could Devastate These Islands Next
HECTOR RETAMAL/AFP/Getty Images
If you thought the answer to the question of how strong is Hurricane Maria would be "less" by this point of the week, think again. After hitting Puerto Rico with what Gov. Ricardo Rosselló called "most devastating storm to hit the island this century, if not in modern history," Maria regained strength on Thursday morning, Sept. 21, according to CNN. Now, the storm looks set to hit yet another series of islands by Thursday night.
Hurricane warnings have been issued for both Turks and Caicos and the southeast Bahamas, where hurricane conditions are expected within 36 hours (as of Thursday morning).
The projected path of Hurricane Maria indicates that it will travel tens of miles east of the Turks and Caicos Islands between Thursday night and Friday afternoon at Category 3 strength. Despite the projected distance from the storm, the Turks and Caicos islands are still likely to experience heavy rainfalls -- between eight to 12 inches, per the The Weather Channel's count -- as a result of Maria.
Where Hurricane Maria Has Been
Though the threat of Hurricane Maria has prompted warnings on other islands, the storm does not look likely to inflict the type of damage it already has in other locations across the Caribbean.
In the Dominican Republic, the storm brought winds gusts of 58 mph to the popular tourist town of Punta Cana, per CNBC, which is located on the east coast of the small nation. Though heavy rainfall resulted in floods in the Dominican Republic, it did not suffer the direct hit that devastated Puerto Rico on Wednesday and left multiple leaders on the island providing grim assessments of the storm's damage.
Abner Gómez, the director of Puerto Rico's emergency management agency, told reporters,
Definitely Puerto Rico — when we can get outside — we will find our island destroyed. The information we have received is not encouraging. It's a system that has destroyed everything it has had in its path.
San Juan Mayor Yulin Cruz told NBC Nightly News,
The Puerto Rico and the San Juan that we knew yesterday is no longer there. So we have to reconstruct, rebuild, reinvent and we have to be resilient. And we have to push on if not with our bodies, with our hearts and with our soul... But I'm just concerned that we might not get to everybody in time and that is a great weight on my shoulders.
Felix Delgado, the mayor of another Puerto Rican town, Catano, told the Associated Press,
Months and months and months and months are going to pass before we can recover from this.
The impact of Hurricane Maria left the "whole island" of Puerto Rico without power, according to Jenniffer González-Colón, Puerto Rico's representative in Congress. Early Thursday morning, the National Weather Service declared that the whole of the island was under flash flood warning.
Hurricane Maria's impact on Puerto Rico occurred only after it traveled through Dominica, among other islands. According to CNN, at least 14 people were left dead in Dominica -- which has a population of over 70,000 people. Meanwhile, the island's prime minister, Roosevelt Skerrit, was left "homeless," according to his spokesman.
Philmore Mullin, head of Antigua and Barbuda's National Office of Disaster Services, said,
The need is great. Damage is severe and widespread. We know of casualties, but not in detail. We've heard of many missing, but we just don't know much at the moment.
After traveling through the Caribbean islands, Hurricane Maria is then expected to embark on a path that will prompt the attention of states across the American east coast. Whether or not the storm will travel close enough to northern states to make a significant impact is unclear, however.