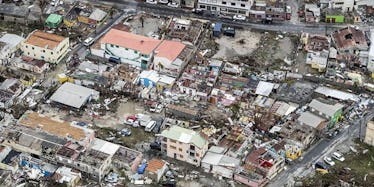 Hurricane Maria Might Be Just As Big As Irma — And It's Bad News For The Caribbean
GERBEN VAN ES/AFP/Getty Images
Just when we prayed to all the heavens above that catastrophic hurricanes were a thing of the past  – here comes another one. Weeks after Hurricane Harvey devastated Texas and Hurricane Irma slammed down hard on the Caribbean and Florida, Hurricane Maria has now brewed itself into a Category 5 storm. Even worse, Hurricane Maria might hit Puerto Rico and other areas already devastated by Irma.
As of the evening of Sept. 18, Maria was packing winds of 160 miles per hour as it headed towards Dominica, en route to Puerto Rico, and the British and U.S. Virgin Islands, CNN reported. The diagnosis for the storm is already looking treacherous. According to the National Hurricane Center,
The extremely dangerous core of Maria is expected to pass over Dominica within the next hour or two. Maria is likely to affect Puerto Rico as an extremely dangerous major hurricane, and a hurricane warning has been issued for that island.
The National Weather Service in Puerto Rico also indicated that there could be "record rains and flooding." It's not clear yet whether or not Hurricane Maria will hit the East Coast, but there is a chance it could strike an already battered Florida. AccuWeather meteorologist Dave Samuhel explained,
We may luck out and it turns north before reaching Florida. Unfortunately, it looks like blocking high pressure could force it into Florida. Definitely something we are watching.
Meanwhile, the U.S. Virgin islands have already been dealt a heavy blow from Irma. The Washington Post reported that many residents were experiencing shortages in food and water following the storm, and a great deal of the island's infrastructure had been destroyed.
"While there were some homes that survived — some lost just roofs — there are homes that are totally obliterated right down to the foundation," David Mapp, executive director of the Virgin Islands Port Authority, told NPR. "I mean, all you see is rubble."
Storm preparations are already under way in Puerto Rico and Dominica, an island that houses nearly 74,000 people. During a televised speech, Dominica's Prime Minister Roosevelt Skerrit warned residents that they should start cleaning up their properties and moving furniture indoors. "This is not a system that will linger very long," he said. "Therefore, the goal must not be on stockpiling supplies but on mitigating damage caused by flying objects."
Puerto Rico has declared a state of emergency, anticipating that Hurricane Maria will make a landfall on Sept. 20. This will the first time in 85 years that the island has experienced an intense, potentially catastrophic hurricane, according to CNN. The island has 450 shelters that could house a maximum of 125,428 evacuees, after Irma managed to destroy six of the island's shelters and knocked out electricity in some schools.
Puerto Rico's governor Ricardo Rosselló ordered evacuations on Sept. 18, explaining that the entire island will experience some form of devastation from the storm. He said,
We expect to feel storm winds, tropical storm winds, since Tuesday up until late on Thursday. That's about two-and-a-half days of tropical storm winds, and on Wednesday we will feel the brunt -- all of the island will feel the brunt of sustained category four or five winds. This is an event that will be damaging to the infrastructure, that will be catastrophic, and our main focus -- our only focus right now -- should be to make sure we save lives.
There are also tropical storm warnings for Antigua and Barbuda, two islands that were completely devastated by Irma. Some of the most catastrophic property loss occurred in the island of Barbuda, where 90% of the structures were damaged or destroyed.
Antigua and Barbuda Prime Minister Gaston Browne called his island "barely inhabitable" after Irma's destruction. He told ABC News,
When you have an unprecedented storm like this that comes with such significant wind force this is like having a bomb literally thrown on a city. … It is really the sheer magnitude of the winds that destroyed these properties.
Sending so, so many well wishes to everyone in the Caribbean right now.