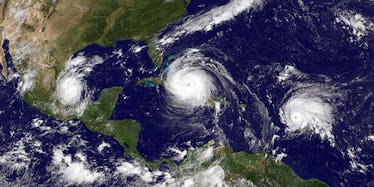 Hurricane Jose's Uncertain Path Towards The U.S. Has Everyone On Edge
NASA Handout/Getty Images
Just when we had hoped that all natural disasters were over and done with forever, yet another hurricane has started brewing. It's unclear as to where exactly the storm will hit, though it looks like it could make its way towards the East Coast. Meteorologists indicate that Hurricane Jose might hit New York, based on the storm's odd, twisting path.
As of Sept. 12, Hurricane Jose could barely be categorized as a hurricane. It lingered 435 miles south of Bermuda, packing a fairly minimal wind speed of 75 mph, USA Today reported.
However, it's making a slow trek towards the United States. The storm will land somewhere between Bermuda and the southeastern coast of the United States by next Monday, and then move northwest by Thursday. Bermuda could experience some rainfall and powerful gusts of wind, but all in all, it appears that Jose will flip-flop between a small-scale hurricane and a tropical storm.
At the moment, there's really nothing to push the storm forward, and it could just float between Bermuda and Florida without any real driving force setting it into motion. However, if a ridge of high pressure develops in the Atlantic, it could push the storm towards the East Coast.
The timing of the hurricane – just days behind Irma and weeks behind Harvey – is enough to set pretty much everyone on edge. The catastrophic damage that the two storms inflicted makes even murmurs of another hurricane completely terrifying, no matter how potentially docile it could be.
It is tricky to completely chart where exactly Hurricane Jose will hit, because the hurricane's path is currently exhibiting a whole lot of confusing twists and turns. AccuWeather meteorologist Evan Duffey explained to USA Today,
We are not feeling too confident on where it goes. It's been looping around, and that is when things start to get really tricky.
It doesn't appear that Hurricane Jose will hit the coastline because Irma – which has been downgraded to a tropical depression – will push the storm out of the way. It's sort of like a weird, unsettling game of natural disaster versus natural disaster.
"It's like a tennis ball being pushed around by astronauts in the space station," Duffey said.
There is a chance, though, that intense rip tides from Jose could affect coastal areas of New York, along with causing rainfall in New York City during the week, Patch reported. Hurricane Jose could also create turbulent currents and erosion along the coastline, as well. But again, nothing is certain.
So, basically, everyone should take precautions regardless of all the wishy-washy information. According to the Weather Channel,
The future path of Jose after it makes its stalling loop in the western Atlantic remains uncertain, but we will continue to monitor it for any potential U.S. impact next week. For now, swells generated by Jose and Irma will continue to affect the U.S. East Coast, leading to dangerous rip current conditions this week.
People are taking to Twitter to lament the looming, super confusing potential threat of Jose – with some humor, and a whole lot of irritation.
Meanwhile, areas affected by Hurricane Irma are just beginning the slow, incredibly difficult task of attempting to rebuild.
The hurricane could cost the United States an estimated $172 billion worth of damage, according to CNN, while the Caribbean deals with a staggering, extremely costly amount of infrastructure damage. In St. Maarten, 70% of houses were destroyed and the damage totaled $1.44 billion, according to The Washington Post. The island of Barbuda and the British territory Anguilla was slammed the hardest, with 90% of the area's structures damaged or destroyed.
Antigua and Barbuda Prime Minister Gaston Browne called the island "barely inhabitable." He told ABC News,
When you have an unprecedented storm like this that comes with such significant wind force this is like having a bomb literally thrown on a city. … It is really the sheer magnitude of the winds that destroyed these properties.
Here's hoping that the threat of Jose somehow miraculously goes away and we can rebuild as quickly as possible.