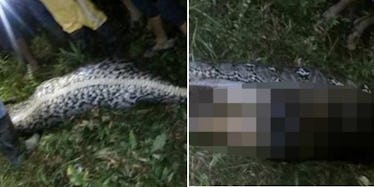 Villagers Slice Open 23-Foot Python To Find Man Who Was Swallowed Whole
Viral Press
A missing Indonesian man's lifeless body has been found in the stomach of a 23-foot long python, who appears to have swallowed the victim whole.
Akbar Salubiro, 25, first went missing on March 25 after he went out to harvest palm oil in a remote village on the island of west Sulawesi, Indonesia.
A day later, villagers discovered the massive python with a sizable bulge in its stomach, hanging in Salubiro's back garden. They immediately feared their friend had been suffocated and swallowed by the creature.
Their fears were soon confirmed, as locals took an 18-inch long hunting knife to the giant snake's body and cut open its stomach to reveal a deceased Salubiro.
The video shows a slow removal of the corpse, while the serpent's leathery skin is tediously peeled away. It appears Salubiro was still wearing his boots, shorts and t-shirt when he was cut out of the python's stomach.
The 25-year-old man's wife, Munu, was reportedly away from their home at the time he died. She only found out what happened to her husband after the disturbing images and video surfaced in the media.
Village secretary Salubiro Junaidi described the horrifying incident,
People had heard cries from the palm grove the night before Akbar was found in the snake's stomach. When the snake was captured, the boots Akbar was wearing were clearly visible in the stomach of the snake. Resident cut open the belly of the snake and Akbar was lifeless.
A neighbor who knew Salubiro said,
He was found in the location of the garden. Initially Akbar set out from his home to go to harvest palm. After not returning to his home, people looked for him.
According to The Sun, reticulated pythons are a species found in Southeast Asia. They are among the world's largest snake species.
The breed, which kills its prey by literally squeezing the life out of them, has allegedly been responsible for several human deaths.
Citations: Horrifying moment villagers cut open a giant python and discover their missing friend inside who had been swallowed whole after being crushed to death (MailOnline), HISS OF DEATH Gruesome moment dead man's corpse is cut out of the stomach of a massive python in Indonesia (The Sun)