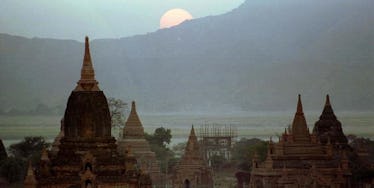 Massive 6.9-Magnitude Earthquake In Myanmar Leaves 50 People Injured
Reuters/Reuters Photographer
A 6.9-magnitude earthquake struck Myanmar earlier today, shaking cities in India, Nepal and Bangladesh hundreds of miles away.
The earthquake's epicenter was located about 62 miles northwest of Monywa, Myanmar, and approximately 84 miles under the ground of the Asian nation, Reuters reports.
Tremors were reportedly felt for about two minutes, but many residents of Myanmar reportedly fled their homes, with some calling loved ones.
The area of the epicenter was not densely populated as it reportedly contains mainly low-rise houses. No serious damage to infrastructure was reported, but according to the BBC, there were an unspecified number of casualties in northeast India.
Approximately 50 people in Dhaka, Bangladesh, which is 300 miles from the epicenter, were injured as they ran from homes and buildings.
Tremors were also felt in Tibet, China and the northeast Indian state of Assam, where the Duke and Duchess of Cambridge, Prince William and Kate Middleton, are currently staying.
British Deputy High Commissioner Scott Furssedonn-Wood, who is staying in the same resort as the royal couple, said,
We felt the tremor very strongly, but all is fine.
William and Kate are taking a royal tour of India and just visited Assam's Kaziranga National Park, ABC News reports.
Residents of Tusom, India, near the Myanmar border, said today's earthquake actually felt lighter than the 6.7-magnitude earthquake that killed nine people and ruined thousands of homes in the region in January.
About four years prior, an earthquake struck Myanmar near its borders with Thailand and Laos, killing at least 75 people.
Citations: Earthquake hits Myanmar, no immediate reports of major damage (Reuters), Myanmar shaken by 6.9 magnitude earthquake (BBC), Strong Quake Hits Myanmar, Felt in India; No Major Damage (ABC News)