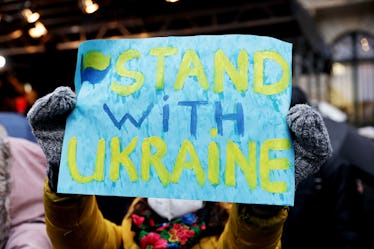 Here's What You Can Do To Support People In Ukraine Right Now
Millions of people have reportedly fled the country, and at least a million more are displaced.
picture alliance/picture alliance/Getty Images
For months, Russian President Vladimir Putin indicated he intended to invade Ukraine, and on Feb. 23, it happened. As of early April, an estimated four million Ukrainians have reportedly fled the country, while Russia has been accused of war crimes for its actions in Ukraine. As the world watches this crisis unfold, people all over the globe are wondering how they can help. So, here's how to help Ukrainian civilians and refugees amid Russia's invasion.
As of early April, civilian deaths are mounting: more than 1,000 Ukrainian civilians have been reported killed per United Nations data, and the true number is likely much higher. Millions of Ukrainians have fled the country, per the BBC, and around six million more are internally displaced by the fighting. Photos and videos across social media showed people taking refuge in makeshift bomb shelters, as well as fleeing on foot, by mass transport, or by car.
"Russia has turned the Ukrainian sky into a source of death for thousands of people," Ukrainian President Volodymyr Zelenskyy said in a March 16 address to U.S. Congress. "Russian troops have already fired nearly a thousand missiles at Ukraine. Countless bombs. They use drones to kill us with precision," he added.
While Russian leaders have stated they would scale back military operations amid negotiations, Ukraine and its allies don't buy it. "Russia has repeatedly lied about its intentions so we can only judge Russia on its actions not on its words," NATO Secretary General Jens Stoltenberg said in a March 31 statement, per Sky News. "According to our intelligence, Russian troops are not withdrawing but repositioning."
Ukraine was under control of the Soviet Union before gaining independence when the Soviet Union collapsed in 1991. For the 30 years since, Ukraine has been an independent nation — and is now threatened by Russia's invasion. While it's easy to lose hope in a crisis like this, there are a few things you can do to help Ukrainian people during these difficult circumstances.
This article was originally published on