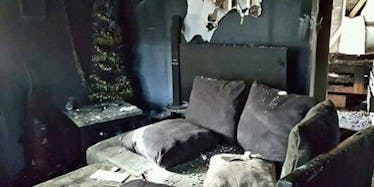 12-Year-Old's Hoverboard Bursts Into Flames And Burns Down Family's Home
A brand new hoverboard is believed to be the cause of the fire that burned down a Louisiana home.
The 12-year-old son of Jessica Horne received a hoverboard for his birthday late last month. He reportedly used it without trouble and had to recharge the device's lithium battery in his room the next day.
Horne told WGNO as the battery charged, sparks and then flames suddenly erupted from both ends of the hoverboard.
She said,
It was like fireworks, the middle part of the board -- just 'poof.'
Within a matter of minutes, her Lafitte home became a blazing inferno, destroying everything the family owned.
According to WGNO, the hoverboard was purchased on Amazon from a company called Fit Turbo.
The explosion appears to have been the first incident of its kind as the Consumer Product Safety Commission told WGNO all of the hospital visits caused by hoverboards over the past few months were due to falls.
Horne created a GoFundMe page shortly after the fire to raise money for necessary belongings like clothes for her three children.
Horne is asking for $8,000 because she also said the home was rented, and she had no insurance.
The fire is currently being investigated by the Louisiana State Fire Marshal's Office.
Hoverboards are banned in several major cities including London and New York.
Citations: Exploding hoverboard blamed for destroying Lafitte familys home (WGNO)