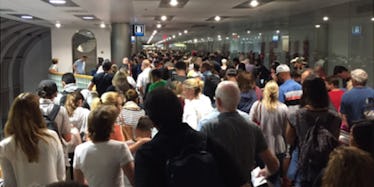 Horrifying Pic Of New Year's Travelers Will Make You Happy You're Back At Work
Twitter
A massive shutdown of U.S. Customs and Border Protection systems caused major delays at some of the country's biggest airports, including New York, Miami, Chicago, Boston, Baltimore and Atlanta.
Lines were backed up for hours as the system experienced an outage for a few hours on Monday night.
This picture from a traveler in Miami shows just how bad the backup was as the line wrapped through the gigantic airport:
Let's paint that picture for you so you can understand the true severity of this experience.
Say you took a fabulous New Year's vacation to Costa Rica. You partied, hung out on the beach and had a great time.
Now it's time for you to go back. You're sad because leaving a beach is always tragic.
You know you're headed for cold weather up in Chicago -- which will only get more unbearable as the winter weeks crawl by.
Not to mention, you have to go back to work.
So you get to the airport and make it through security. Your flight's on time, hooray! But it's completely full because New Year's travel.
Your suitcase doesn't fit in the overhead compartment because the plane's too full. Now you have to check it.
You sit down for the hours-long flight and notice a toddler behind you kicking your seat. You can't decide if the kicking toddler is better than his screaming baby sister.
But you do it. You make it back to Chicago.
Now you just have one final step before you can get to forced baggage claim and out of the airport and into an overpriced taxi and back to your apartment: You just have to make it through Customs.
But, lo and behold, there are a million people waiting for Customs.
The area is overcrowded. It's hot. Babies are crying. Adults are passing out. Someone just puked. There's no way for anyone to reach a bathroom. (All this according to real eyewitnesses.)
You are stuck waiting at Customs for hours before you can avoid a "The Terminal" life and get out of the airport and back to your regularly scheduled end-of-vacation misery.
The system outage lasted about four hours. Officials were forced to process arrivals by hand, making lines last forever.
U.S. Customs and Border Protection said,
CBP took immediate action to address the issue and CBP officers continued to process international travelers using alternative procedures at airports experiencing the disruption. Travelers at some ports of entry experienced longer than usual wait times as CBP officers processed travelers as quickly as possible while maintaining the highest levels of security. During the technology disruption, CBP had access to national security-related databases and all travelers were screened according to security standards. At this time, there is no indication the service disruption was malicious in nature.
Basically, according to Customs, the system just went down (it wasn't hacked) -- on one of the busiest travel days of the year.
2017 is looking great so far, fam!
Citations: Customs outage causes chaos, backups at airports (USA Today), Mayhem at airports as immigration system inexplicably crashes - causing huge lines and hours of disruption on one of the busiest travel days of the year - but officials dismiss suggestion of hacking (Daily Mail)