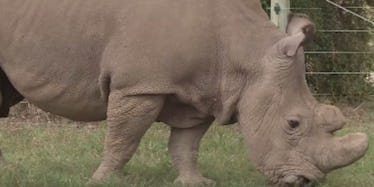 This 'Horny' Rhino Is On Tinder And It's The Best Thing You'll See All Day
Twitter
It's so hard to find love in this world even animals are turning to dating apps like Tinder.
If you're struggling to find a mate, don't get down on yourself: A northern white rhino in Kenya named Sudan feels your pain.
He's single, 43, has a massive, um, horn, is the world's last male northern white rhino...and is now on Tinder.
Like a drunk, lonely 20-something gazing longingly at his smartphone at 4 am in New York City, Sudan is desperately hoping someone will swipe right.
This is what his profile says,
I don't mean to be too forward, but the fate of my species literally depends on me. I perform well under pressure. I like to eat grass and chill in the mud. No problems. 6 ft tall and 5,000 pounds if it matters.
Who wouldn't be charmed by that?
"The fate of my species literally depends on me," has to be the best pick-up line of all time.
All attempts to get Sudan to mate naturally have failed, so Tinder and conservationists at Ol Pejeta Conservancy in Kenya have joined together in the hopes of raising $9 million for research on breeding methods, including in vitro sterilization.
According to Reuters, scientists are aiming to use Sudan's sperm to fertilize an egg from one of the two last northern white rhino females: Satu (17) or Najin (27).
If all goes well, the embryo would be implanted in a surrogate southern white rhino -- the most populous subspecies of rhino on the planet, with somewhere between 19,000 to 22,000 in the wild.
The reason there are so few northern white rhinos left is due to the fact poachers sell their horns for roughly $50,000 per kilo, which makes them a more profitable commodity than illicit drugs like cocaine.
This is why Sudan and his female companions at the Ol Pejeta Conservancy -- a 90,000 acre reserve in Kenya's Laikipia region -- are protected by armed guards.
Simply put, humans suck.
Speaking with AP, Richard Vigne, the conservancy's chief executive officer, said,
The plight that currently faces the northern white rhinos is a signal to the impact that humankind is having on many thousands of other species across the planet. Ultimately, the aim will be to reintroduce a viable population of northern white rhino back into the wild, which is where their true value will be realized.
Adding to this, Matt David, the head of communications and marketing at Tinder, said they are "optimistic given Sudan's profile will be seen on Tinder in 190 countries and over 40 languages."
Let's hope the campaign, which is dubbed the "Most Eligible Bachelor in the World," is successful for the sake of this magnificant and beautiful species.
Good luck, Sudan, we're rooting for ya, buddy.
Citations: World's last male northern white rhino getting dating help from Tinder (ABC News)