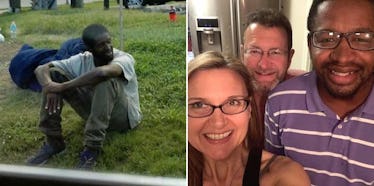 Homeless Man Taken In By Family Waited In The Same Spot For Heartbreaking Reason
Facebook
Break out that spare box of Kleenex.
I wish I did before hearing this heartbreaking story. A 32-year-old homeless man named Victor Hubbard had spent nearly a decade on the same street corner in Texas. It turns out his mother left him there to get rid of him.
Hubbard, who suffers from a mental illness, would just stay in the same spot he was left at in hopes of his mother returning one day. Unfortunately for him, his mother never came back to pick him up.
It wasn't until a woman named Ginger Sprouse stopped to talk to him that his life changed forever. Sprouse had driven by Hubbard nearly every day on her way to work for three years, according to NBC News.
When Sprouse finally connected with the homeless man, she learned about his rough upbringing and wanted to do something to help him. Ginger Sprouse told NBC reporters,
He was so sweet. He didn't ask me for anything. He didn't want anything. He was just excited that I wanted to stop and talk to him.
The woman, who has a family of her own, decided she was going to make an effort to learn more about Hubbard's life story and find a way to make a positive impact on his future.
Sprouse owns a company that specializes in cooking classes in the Nassau Bay area of Texas. Every day, she'd use her coffee break to stop by and pay Hubbard a visit where he's been waiting for his mother for approximately 1,000 days.
Eventually, Ginger Sprouse learned enough about Victor Hubbard that she was sure of what she wanted to do. On one cold day, she and her husband decided to take the man into their home and make him apart of their family.
If we help him, we cannot just clean him up and give him a shower and throw him out there and say, 'OK, little bird, fly.' It's a lifetime commitment. We kind of had to make that decision. Is he really a part of our family? Do we really mean it when we say that he's going to be in our lives for the rest of it if that's where he wants to be? And we said, 'Yes, he is.'
Since bringing Hubbard into their Texas home, the Sprouse family has made an effort to improve his health and keep him busy.
Ginger has helped Victor go from homeless to cared for by taking him into her own home and making him part of her family.
After his mother abandoned him on a Texas street corner years ago, he's been eating well and living better.
And he's even got new glasses.
Lookin' good!
Ginger even went out of her way to help Victor start a garden in her backyard to symbolize new beginnings.
These days, Victor Hubbard is still living with the Sprouse family. He's even landed a job at Ginger's cooking company Art of the Meal.
Sprouse told reporters,
The man doesn't need another sandwich. What he needs is someone to help him do something with all of this.
Even when he gets on his feet, Ginger and her husband have vowed to remain part of Hubbard's life. At this point, it's a lifetime commitment for them, and they wouldn't want it any other way.
The family has even created a GoFundMe page for Victor with a crowdfunding goal of $35,000. So far, they've managed to raise $31,600. The money is expected to be used to pay for the rest of the man's necessary medical expenses.
If you're interested in helping Victor out or learning more about his story, click here. As for me, I'm going to go find that box of Kleenex ASAP!
Citations: Family Takes In Homeless Man Who Was Sitting In The Same Spot For Years Waiting For His Mother Who Abandoned Him (BroBible)