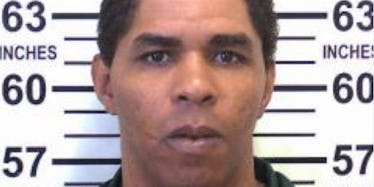 Homeless Man Confesses He Planned To 'Fry' Lover's Penis In Gruesome Murder
New York City Police Department
On Tuesday, Jerry Pagan, 32, of the Bronx, was indicted for murdering and castrating his lover, 68-year-old Richard Reed. The gruesome crime occurred on Sunday night.
He had allegedly planned to eat his lover's penis and also chop off his head.
Pagan, believed to be a homeless prostitute, had unprotected but consensual sex last week with the victim.
He was angry Reed didn't give him money to get tested after the sexual encounter. He confronted Reed in his apartment, took a hammer and allegedly hit the victim over the head.
Then, he allegedly stabbed Reed several times with scissors and cut off his penis with a razor blade.
The two had apparently known each other for years.
Pagan confessed to police in a videotaped interview,
I stabbed him with a knife and hit him over the head with a hammer and cut off his penis and put it in the sink.
He added that he was "going to fry the penis up and eat it, too."
After allegedly stabbing Reed, Pagan pushed him into the bathtub to try to drown him.
As the older man lay dying, Pagan took a shower and spent the next day inside the apartment with the corpse until he was arrested by police.
A neighbor noticed an amount of blood coming from Reed's apartment and entered while Pagan was out to find the the victim in his bathtub. Police were notified around 8:30 pm on Sunday.
Pagan told police when they arrived,
I did it. Put the cuffs on me. Hurry up already.
Pagan flashed a smirk to camera and looked calm in Bronx Supreme Court on Tuesday. He pleaded not guilty to murder and manslaughter charges.
His lawyer did not comment, and it is unknown if he will present a psychiatric defense.
On Sunday, when reporters asked why Pagan committed the crime, he responded,
Did what?
Citations: Homeless man confesses to fatally castrating his older Bronx lover, planned to 'fry the penis up and eat it' (New York Daily News)