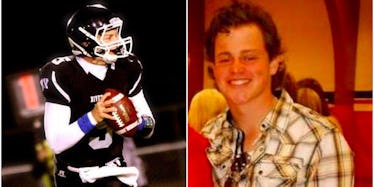 Homeless Man Arrested After College Student Found Dead In A River In Rome
Facebook
A homeless man has been arrested after the body of an American student was found in the Tiber River in Rome.
Detectives are now treating the death of Beau Solomon, 19, from Wisconsin, as murder.
Solomon was due to start a study abroad program at John Cabot University, which has a campus near the river where Solomon was found.
The last time he was seen alive was around 1 am local time on Friday as he left a bar in the city.
His roommate contacted the university after Solomon didn't show up at orientation that morning, according to a statement released by John Cabot University.
Massimo Galioto, 40, from Rome, has been taken into custody.
Police are sifting through surveillance footage and searching for more witnesses.
They are also looking into claims that more than $1,000 was charged to Solomon's credit card in Milan.
Solomon's family has paid tribute. His brother told the New York Daily News,
He was full of life. We may never get over this. But we hope that he's in a better place.
His parents arrived in Italy Monday evening and an autopsy is due to take place on Tuesday.