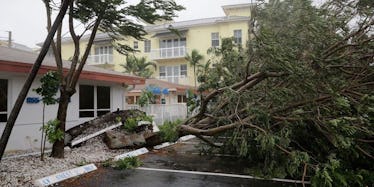 This Is What You Should Do If Your Home Was Hit By Hurricane Irma
Chip Somodevilla/Getty Images
As Hurricane Irma completes its sweep across Florida, residents are beginning the slow process of recovery. Millions are still without power across the state, and those who evacuated or went to a shelter are figuring out if it's safe to return and see how their homes fared. Meanwhile, people in the Houston area of Texas and in Louisiana are working on recovery from Hurricane Harvey. The Federal Emergency Management Agency (FEMA) has a simple set of instructions for what to do if your home was hit by a hurricane.
FEMA is the United States Department of Homeland Security agency that's in charge of figuring out what to do during disasters, such as destructive storms. Older millennials might remember them best from the criticism the group received for a botched response to Hurricane Katrina in 2005, where response was slow despite the major destruction on the ground. In any case, they're the group who steps in after something like Hurricane Harvey and Hurricane Irma.
FEMA has been using social media to share important messages throughout the late August and early September storms across the southeastern states. One such important message is what to do after a storm -- including how to get back to your house and what to do once you are able to (safely) get there.
The agency tweeted a simple gif of the instructions on Monday morning, Sept. 11, along with the message that "You should only return home when local officials say it's ok."
First and foremost, as the FEMA tweet says, safety is paramount. No one should try to get back to a house before being told that conditions are safe enough for you to get there. Hurricanes bring damage in the form of high winds and storm surges, which are those giant waves of water. The damage also can come from tornadoes, heavy rain, and flooding. Streets can be dangerous with fallen trees, downed power lines, and flooding. There can also be fires coming from impacted transformers. Overall, the site of a hurricane impact is not a place you want to jump back into without assurance that it's clear to go.
So, the FEMA graphic says, "listen to local officials for updates & instructions."
We probably don't have to tell anyone this, but FEMA advises you can "use texts or social media to check in with friends & family." As someone with family in Florida, it was really comforting to see their regular status updates on Facebook throughout the thrust of Irma.
In terms of travel, FEMA warns to "watch out for debris & downed power lines." The agency also advises people to "stay out of damaged buildings & homes until local authorities say its safe."
Once people are able to get back to their houses, there are more important steps to take to help with the recovery process, especially if your house saw some damage from the storm.
"Photograph the damage to your property to assist in filing an insurance claim," FEMA advises in their graphic.
Bureaucracy sucks and it might be the last thing on your mind when returning to a damaged home, but unfortunately bureaucracy is a constant in our lives -- and you'll want to do anything you possible to make life easier on yourself. Taking pictures of the property damage can seriously help families out in the future to get help in the recovery process.
As the storm passes out of Florida, I'm sure that many people are itching to get back to their homes if they were able to evacuate or go to a shelter. Patience is important virtue to keep as returning before it's safe could lead to more personal injury. And whether you stayed out the storm in place or took shelter somewhere else, FEMA's instructions have some good advice that can help you out.