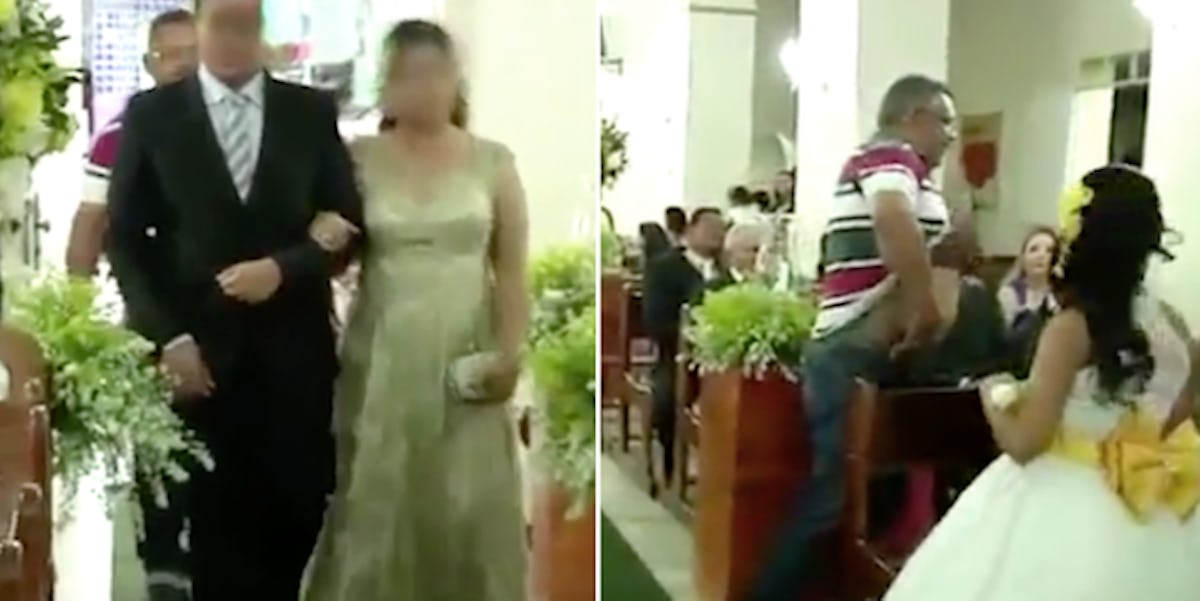 Scary Video Shows Hitman Stalking Bride And Groom Down Aisle Before Shooting
MailOnline
A hitman was caught on camera following a bride and groom down the aisle before opening fire on their wedding in Brazil.
Shocking footage shows the man pulling out a gun during the ceremony, causing immediate panic among terrified guests — including two little girls who were just feet away from him.
Umberto Ferreira dos Santos, also known as Betinho, reportedly targeted a father and son in a revenge attack over the death of his own son.
He shot the two men, as well as the younger man's wife, Alagoas24Horas reported, but all three are recovering from the attack.
After the gunman calmly walked out of the church, the wedding apparently continued.
The uninvited guest was within touching distance of the couple before he reached under his polo shirt and pulled out the gun in the Our Lady of Conception Church.
People fled the scene, but the video of the attack shows Dos Santos leaving the church moments later.
Dos Santos, who reportedly works for the town council and is a cousin of local politician, Jo Pereira, targeted Cicero Barbosa da Silva, 62, his son Edmilson Bezerra da Silva, 37, and his wife, who has not been identified.
The two men had surgery but are in a stable condition, while the woman was released from hospital.
Edmilson was cited as the main suspect in Dos Santos' son's death, and police believe he was exacting revenge.
A witness told 7 Segundos,
We have no idea what is the motive of this attempted murder, nor why it was done precisely during the wedding, as the victims walked around the town freely and any time of the day or night.
Other witnesses said Dos Santos parked his car in front of the church before walking in behind the bride and groom.
Police are hunting for the attacker, but have been unable to track him down.
Citations: Alagoas24Horas, 7 Segundos, The wedding assassin: Gunman follows bride and groom as they walk down the aisle during Brazilian wedding… before pulling out a handgun and shooting at guests (MailOnline)