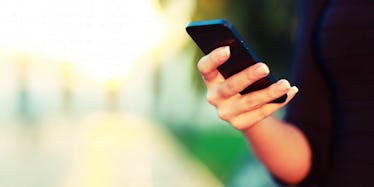 High School Couple Faces Charges After Sending Each Other Nude Selfies
Shutterstock
Two North Carolina teenagers were allegedly charged with felonies for texting each other nude pictures of themselves.
Last year, the Cumberland County Sheriff's Office conducted an investigation at Douglas Byrd High School in Fayetteville, North Carolina due to allegations of a statutory rape, The Washington Post reports.
For the overall investigation, deputies went through the cell phone of a male football player, who was 16 at the time, and found nude selfies of the teen and his girlfriend, who was also 16.
In North Carolina, anyone who is at least 16 years old can be charged as an adult. It is illegal in the state, however, for anyone under 18 to distribute and/or receive "sexually explicit texts, photos or videos," one of the officers explained.
So in this bizarre situation, both teenagers were simultaneously the adult perpetrators and the victimized minors.
The two were arrested in February.
Computer security expert Fred Lane told The Guardian,
This goes back to the supreme court making child pornography unconstitutional in 1983 and each state legislating in line with that for the public good – in order to protect children from adults producing, possessing or distributing nude images of them. But that was before anyone thought kids would be making and sending nude photos of themselves with publicly available digital technology.
The high school male was reportedly charged with five felony counts of sexually exploiting a minor, while his girlfriend was charged with two felony counts of the same offense.
They both took plea deals to have the charges dropped and avoid years of jail time.
The female pleaded guilty in July, facing a misdemeanor charge of "disseminating harmful material to minors." She was then assigned a year's worth of probation.
She was also instructed to take a class about staying out of trouble, complete 30 hours of community service and to not own a cell phone for a year, The Guardian reports.
Her boyfriend's plea deal reportedly featured similar terms and forced him to undergo numerous searches by authorities.
Lane added,
There are about 10 or 12 mostly conservative states where they will prosecute kids for this and it's a kind of moral values thing – they are trying to make an example of them because it's believed to be inappropriate behavior.
Both teenagers must obey the rules of their agreements for a year to have their records wiped clean.
Research collected by University of Texas Medical Branch psychology expert Jeff Temple found 30 percent of teens engage in sexting.
Temple, therefore, estimated "tens of thousands of kids" would currently be in jail if other states interpreted their laws like Fayetteville prosecutors.
Citations: N.C. just prosecuted a teenage couple for making child porn — of themselves (The Washington Post), Teen prosecuted as adult for having naked images of himself on phone (The Guardian)