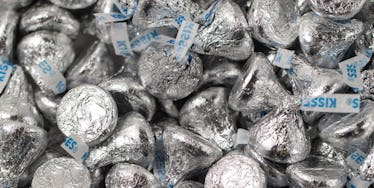 Hershey's Kisses Are Actually Going To Be A Lot Healthier For You Now
Getty Images
Excellent news for all you chocolate lovers who also happen to care about your health.
Hershey's is taking the artificial ingredient vanillin, responsible for the chocolate's vanilla flavor, out of its Hershey's Kisses and replacing it with "natural flavor," according to Associated Press.
Now, we're not exactly sure what that natural flavor is, but it has to be better than the artificial stuff. The company is also removing lactose (a sugar in milk) from its list of ingredients.
Updated chocolates reportedly started shipping a few weeks ago and should be on shelves soon, so you can feel a lot less guilty about how many Hershey's Kisses you eat over the holidays.
Not that you had to feel guilty in the first place. According to a study conducted out of the University of Aberdeen, eating 100 grams of chocolate (which comes out to about two chocolate bars) every day is associated with a lower risk for heart disease and strokes.
And in case you're wondering how many Hershey's Kisses that is, it's 22.5.
How happy are you right now?
Citations: Hershey kisses artificial flavors goodbye in some chocolates (Associated Press)