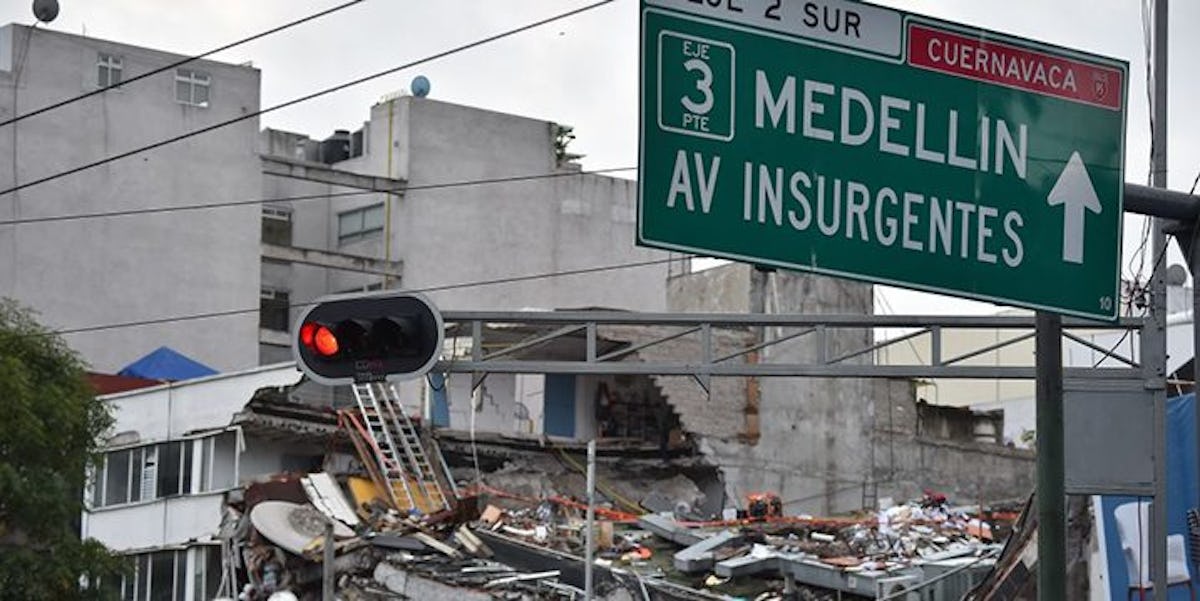 Here's How You Can Donate To Victims Of Mexico City's Earthquake
YURI CORTEZ/AFP/Getty Images
The powerful, 7.1 magnitude earthquake that struck Mexico on Tuesday, Sept. 19, has placed a lot of people in dire need. The seismic event resulted in over 200 deaths, and around 40 buildings collapsed, the New York Times reports, while others have seen their homes damaged. With so many effected, one might feel the need to look into how to donate to Mexico earthquake relief and aid victims of the this week's event.
There are a variety of options, some of which have been touted by notable names and figures. In a video message, Salma Hayek announced that she was helping to raise money while pledging to match the $100,000 donated. The Mexican-born actress said,
After the 1985 earthquake in Mexico City, I was evacuated from my building. A lot of friends died, including an uncle that was very, very close to me. I have lived through the aftermath of a disaster of this magnitude and it's horrific. I am starting a crowd rise to try to raise money to help the families that are going through this nightmare in Mexico right now.
Author J.K. Rowling also shared via Twitter that she made a contribution, while endorsing the OxFam charity. Rowling wrote,
Heartbreaking footage from Mexico. I was there just last month. You can donate to Oxfam's appeal, as I have.
In fact, there are wide array of options to choose from when it comes to donating to Mexican victims.
Organizations like the Mexican Red Cross, Fondo Unido México (which is affiliated with the United Way), and the humanitarian organization Direct Relief have all been suggested by the New York Times.
Meanwhile, CBS News reports Save the Children has dedicated efforts to helping the youngest victims in Mexico. Save the Children's director of operations told CBS,
Children are often the most vulnerable in emergencies such as this and we are particularly concerned because schools across the region were in session and filled with students.
Ultimately, though, what experts stress for those looking to donate is research and vetting.
Sara Nason, a spokeswoman for Charity Navigator, which acts as a watchdog for charitable organizations, told the Times,
There are a lot of individuals in times of disaster that will take advantage of the emotional response people will have.
In that respect, sites like Charity Navigator, Global Giving, and GoFundMe, which verifies fundraisers, can all be helpful. And "help" is definitely the operative word, given that Mexico needs lots of if after the events of the past week.
After the tremor, images and videos of damage to Mexico's structures being filmed in real time surfaced on social media.
The earthquake suffered by the U.S.'s southern neighbor on Tuesday was its second in the month of September. One person who experienced both quakes told NBC News,
It's an incredibly terrifying and scary experience. This time, the quake was much more violent. We had trouble standing and walking. It was impossible to maintain your balance.
The latter of the two took place exactly 32 years after the most deadly recorded quake in Mexico's history, which occurred in 1985 and resulted in over 5,000 deaths. The latest quake may not have resulted in as many casualties, but it has still prompted a state of homelessness for people. One resident who was forced to evacuate his home told Reuters,
The building is very, very damaged. It moves. Everything moves. Nobody here has insurance. Some have family members who can help them but others don't. Everything is in doubt.
Meanwhile, some people weren't able to walk away from their home, school, or place of work at all, with rescue crews working to pull people who may be trapped under ruble. On Thursday, Mexican President Enrique Peña Nieto assured everyone that work to rescue missing person would continue, despite a number of people having already been saved.
Let there be no doubt: The search-and-rescue work in collapsed buildings continues. We are not going to suspend until the last of the survivors has been found.
Those who are rescued will no doubt join others who were affected by the earthquake a people in need of others' assistance.