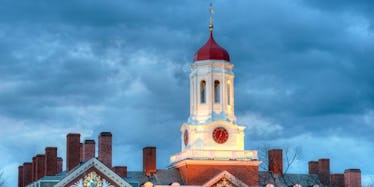 Harvard Takes A Stand Against Bullying Memes By Rescinding 10 Acceptances
Shutterstock
Some high school students are learning the hard way that what they post online could have consequences.
At least 10 seniors bound for Harvard University had their acceptances rescinded after they chose to share inappropriate and offensive memes in a private Facebook group chat. The messaging group was at one point titled, "Harvard memes for horny bourgeois teens" and was an offshoot of the Harvard College Class of 2021 Facebook group.
It began with good intentions, but eventually turned into something explicit. Some of the content targeted racial groups, while other memes mocked sexual assault, the Holocaust, and child death, according to The Harvard Crimson.
The incoming freshman in question were told not to attend the accepted students day, as their statuses at the Ivy League were in jeopardy. Once a student's offer is rescinded, the decision is final.
According to The Harvard Crimson, whose reporter spoke to one of the incoming freshman students in exchange for anonymity, the Admissions Office employees requested that the students who participated in the group share every meme they posted, along with an explanation for the committee as to their involvement with the group.
The Harvard Crimson also obtained part of the letter administrators sent to the students in question. Part of it read,
The Admissions Committee was disappointed to learn that several students in a private group chat for the Class of 2021 were sending messages that contained offensive messages and graphics. As we understand you were among the members contributing such material to this chat, we are asking that you submit a statement by tomorrow at noon to explain your contributions and actions for discussion with the Admissions Committee.
Harvard took a stand against what could be construed as online bullying and offensive to incoming students. Most schools, particularly during students' freshman year, try to make the environment inclusive for everyone. The Harvard Crimson said students "universally" agreed that the school made the proper decision to rescind the acceptances.
Elite Daily has reached out to Harvard University about the issue but did not hear back by the time of publication. College spokesperson Rachael Dane said the College does not publicly comment on individual's acceptances.
Citations: Harvard Rescinds Acceptances for At Least Ten Students for Obscene Memes (The Harvard Crimson)