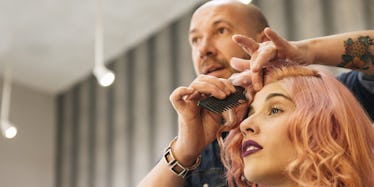 Those Deep, Personal Convos You Have With Your Hairstylist Could Save Your Life
Shutterstock
Starting January 1, all Illinois hairstylists and cosmetologists will be required by law to be trained on how to navigate conversations about domestic abuse with their clients.
The Chicago Tribune reports that the law, enforced by the Department of Financial and Professional Regulation, includes barbers, cosmetologists, aestheticians, hair braiders and nail technicians.
The new measure, signed by Governor Bruce Rauner last summer, will require that the 88,000 beauty professionals living in their state take an hourlong course on domestic abuse and sexual assault.
The course will teach them how to recognize signs of domestic abuse and sexual assault and different ways to address it in conversation with clients they suspect may have problems at home.
Stylists, who have to renew their licenses every two years, will have to take the course every time they want to renew their licenses.
Illinois state officials worked closely with Chicago Says No More, a nonprofit organization aimed at putting a stop to domestic violence and sexual assault, to develop the unprecedented law.
On their reasoning behind requiring cosmetologists, in particular, to undergo such training, Illinois state Representative Fran Hurley, a sponsor of the bill from the start, explained to the Chicago Tribune:
There's an openness, a freeness, a relationship that last years or decades between the client and the cosmetologist. They're in a position to see something that may or may not be right.
In other words, cosmetologists are in a position to potentially hear information from a victim of abuse the person would not otherwise share with someone more involved in their lives.
The measure doesn't require the hairstylists and cosmetologists to actually report the incidents of abuse to authorities.
But Kristie Paskvan, founder of Chicago Says No More, explained to the Chicago Tribune that they hope the bill will help lower domestic abuse cases in the state by raising awareness about the problem, as well as giving victims who might not be ready to turn to the authorities one more safe place to turn.
Citations: New rule requires Illinois hairstylists to watch for domestic violence (Chicago Tribune)