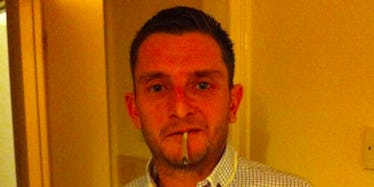 Guy's Penis Snaps In Half During Rough Sex And The Photos Will Scar You
Facebook
Here's a harrowing reminder that the world is a dangerous place where sometimes penises get broken.
Meet Steven Horden. He's just a normal guy from Kent in England -- but with one exception.
The 37-year-old man snapped his penis in half and lived to tell the tale.
He was plowing his girlfriend Kiera Diss, 38, with what we have to assume was an overwhelming amount of force one steamy night in September.
The position? Doggy.
Suddenly, Steven's member bent awkwardly and left him in excruciating pain.
WARNING: You really don't want to see these photos.
He said,
It's nasty. The whole penis is bruised and bent and horrible. We were doing doggy style. It was a little bit too frantic. I think we overdid a little.
He was taken to a hospital where doctors inserted a catheter into his penis. Steven then underwent a procedure to remove his foreskin (because a lot of English men are uncircumcised, FYI).
Steven continued,
The doctors told me that only time will tell if I can still have children.
He spent four nights in the hospital and was then sent home to rest his piece.
But just days later, the randy chap tried to make love again. Steven added,
Kiera is gutted. We can't have sex for six weeks. We did try last night but it was too painful.
As for Kiera, she feels partly responsible for the whole thing. She said,
Steve was in a lot of pain. I was in shock, I never imagined something like this would happen. I feel a bit guilty as I think it was my thrusting backwards that was half the cause of it. But I stuck by him, helped him clean up, use the toilet, I've been there all the way.
She said the couple has been trying to have kids for some time. She remains hopeful it's still a possibility after the horrifying accident.
Citations: Metro