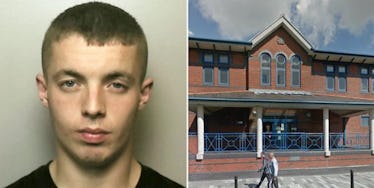 Guy Tries To Gouge Ex-GF's Eyes Out After Finding Text From Other Guy On Phone
Staffordshire Police/Google
A man tried to gouge his ex-girlfriend's eyes out after flying into a jealous rage when he saw a text on her phone from another guy.
The victim feared she had been blinded by Damian Robinson's horrific attack, which has left her with permanent scars.
Robinson, 20, also strangled and punched the woman — who is the mother of his daughter, Stoke-on-Trent Crown Court in England heard.
He has been jailed for seven years after pleading guilty to wounding with intent, breaching a non-molestation order and criminal damage, the Stoke Sentinel reported.
On the night of the attack, Robinson, his ex and a group of friends had been out for the evening before going back to her house.
That's when he found the text from another man and attacked her, prosecutor Robert Edwards explained.
The prosecutor said,
He wrapped both hands around her throat and she struggled to breathe. He then put fingers in her eyes and grabbed her around the neck and she fell onto the floor. He punched her to the head when she was on the floor and he strangled her neck so hard she lost consciousness. When she came to she had a bottle struck on her head and she is aware of being stamped on.
Three days later, Robinson gave himself up.
The court heard the attack has had a "devastating impact" on the victim.
She still has flashbacks and nightmares that have her waking up in a cold sweat. She feels scared to go out and worries about people looking at her scars.
An emotional victim impact statement detailed how she thought she was going to die and was scared she had been blinded.
Robert Smith, defending, said Robinson was "genuinely remorseful."
But Judge Paul Glenn said,
It is plain your actions had a physical and psychological effect on the complainant.
Robinson was also given a restraining order preventing him from contacting his ex.
Citations: Man, 20, jailed for 7 years for strangling and gouging eyes of ex during horrific attack (Stoke Sentinel)