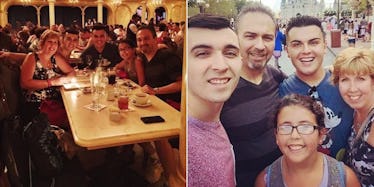 Guy Surprises His Mom With Dream Vacation To Disney For Her Birthday (Video)
Twitter/Facebook
Nick Ferrao easily takes home the Son of the Year Award.
What's the last thing you gave your mother? A dopey Hallmark card and a gift certificate to The Pasta Factory?
I only ask because Nick Ferrao took his mom on a dream vacation to Disney World for her 50th birthday.
Nick filmed his mom opening the package that revealed the trip, and her reaction is super sweet.
In the video description, Nick said,
Over the past few years, we've gone through some tougher times and have not been able to afford a family vacation. My mom's dream has always been to stay at The Grand Floridian resort at Walt Disney World. So, I worked hard and saved up for a year and surprised her on her 50th birthday!
The family is in Disney World now and having an awesome time.
With people like Nick Ferrao in the world, it's probably time for you to step up your gift giving game.