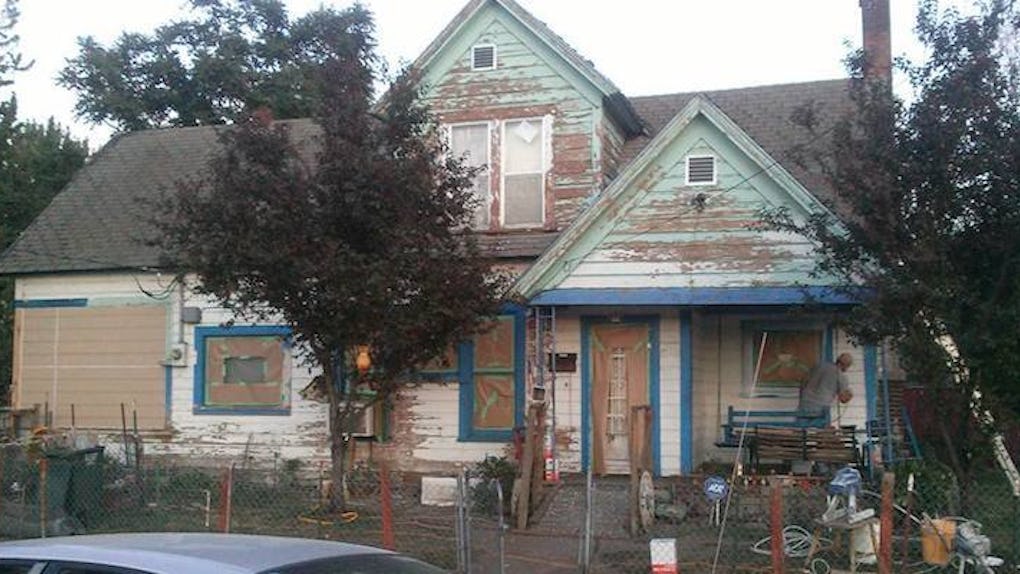 Facebook
Amazing Guy Brings People Together To Remodel An Elderly Man's House
Josh Cyganik should never have to pay for a beer ever again.
The Pendleton, Oregon Union Pacific railroad track inspector would pass Leonard Bullock's house every day on his way to work.
Though he would often see the 75-year-old retired forklift driver sitting on his porch, the two didn't interact much with each other, aside from a smile, a wave and the occasional "Hello."
This is what makes Josh Cyganik's actions that much more remarkable.
Because Bullock and his wife are on a fixed monthly stipend, they didn't have the funds to keep their house in great condition, and over the years, their home took a fairly substantial beating.
According to Cyganik, one day, he overheard two teenagers making fun of Bullock's home, saying,
Look at this crappy house they just need to burn it down!
Bullock listened on from his porch, visibly upset by the comments.
Josh decided to help the retiree out and posted the following update to his Facebook page.
To my friends! So I was at work a couple weeks ago and I heard 2 teenage boys walked by this old man's house. He sits on... Posted by Josh Cyganik on Wednesday, July 15, 2015
The post took off, and it ended up being shared over 6,000 times.
Volunteers were assembled, supplies were donated and a crew got to work on restoring the house.
The outpour of people wanting to help out was amazing.
Cyganik told Community Ties,
We received a lot of additional donations from people who didn't come but wanted to help. People were dropping off food and drinks all day long. Starbucks even donated six gallons of water and iced tea.
The squad of do-gooders gave the home a fresh coat of paint, new furniture and a brand new porch.
The team started out with only 20 people, but by the time the day ended, almost 100 people joined in to help with the renovation.
The job isn't completely done just yet: Cyganik said he is still trying to find a roofer to fix the shingles, but he is, nonetheless, proud of the work the team did so far.
He said,
Yeah, it was a random act of kindness, but to me it's more about respect. I was raised to respect the people who came before you, to help others out who don't have much. Leonard can now sit on his front porch for the rest of his years while feeling good about his home.
Nothing like a little feel-good charity story to start the week off.
Citations: Railroad inspector gathers volunteers to give old mans home a makeover (New York Daily News)