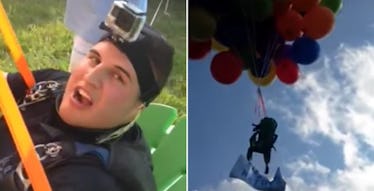 Guy Flies Himself Over Stadium In Chair Held Up By 120 Balloons In Insane Video
YouTube/All Clean Natural
An adrenaline junkie flew himself thousands of feet into the air... using only the power of balloons.
Crazy video footage captures Daniel Boria using 120 helium balloons tied to a lawn chair in order to launch himself over a stadium in Calgary, Canada.
Remind you of anything?
Although no one was hurt during the stunt on July 5, 2015, Boria's attention seeking caused massive disruption to several planes making their way across the sky.
And now, it has led to a fine of C$26,500 ($19,800 US).
In court, the 27-year-old apologized to Judge Bruce Fraser.
But when he spoke to reporters outside, he was more arrogant. In fact, he even compared himself to the Wright Brothers, the Calgary Sun reported.
He said,
(They) didn't charge the Wright brothers. I have the greatest story to tell for the rest of my life.
Judge Fraser condemned the "unconscionably stupid" stunt. He said it could have been catastrophic to both passengers and people on the ground.
Flights in and out of Calgary International Airport were endangered when Boria floated into the flight paths of commercial airplanes, the court heard.
In total, Boria's flight lasted about 20 minutes, and it has been estimated he reached as high as 14,000 feet in the air.
The judge said,
There was nothing fantastic, fun or exhilarating about it as the offender was quoted describing it. It was dumb and dangerous.
Boria – who plead guilty to dangerous operation of an aircraft in December – was fined C$5,000 ($3,740 US), along with a C$1,500 ($1,120 US) victim impact fee.
A condition of him agreeing to the maximum fine was Boria making a donation of C$20,000 ($14,960 US) to a local food bank for veterans.
He had planned to land on the Calgary Stampede grounds during a chuckwagon race in order to promote his startup, All Clean Natural. But he missed his mark due to high winds.
Boria told the court he is pursuing a hot air balloon license "so we can do our next stunt legally."
Citations: Calgary Sun