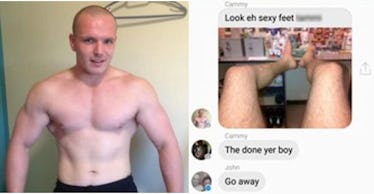 Guy Jailed For Murdering Teen Sends Disturbing Bragging Pic In FB Messages
Facebook
A man serving a life sentence for kicking a 13-year-old boy to death boasted about the murder in messages he sent from a phone he smuggled into his jail cell.
Jordan McCready, 23, was sentenced in 2012 after he mercilessly killed Jon Wilson.
Despite being behind bars, McCready, who is from North Ayrshire, Scotland, sent disturbing messages to a woman on Facebook in which he appears to be bragging about his crime.
The woman receiving his messages accidentally added him on social media after he used a fake name on the site.
In an odd attempt to impress the woman, McCready sent her a picture of his feet, saying they had "done yer boy," meaning they were used to kill his victim.
Though the woman repeatedly told McCready to leave her alone, he taunted her more, saying, "I'm coming for you."
According to the Daily Record, he even threatened to rape the woman and wrote to her, "Kick to kill, stab for a laugh."
Unfortunately, this isn't the first time McCready has found a way to harass innocent people from inside his cell in Lanarkshire's HMP Shotts.
He boasted last year about his "hotel lifestyle" and said he'd be "back on the streets in no time," MailOnline reports.
The Scottish Prison Service commented on McCready's behavior behind bars,
Possessing a mobile phone in prison is a criminal offense. If we receive information that prisoners are in possession of such devices, we will take all appropriate action and report it to the relevant authorities.
Jon's sister Lisa, 27, questioned how the killer was able to access social media sites while in prison.
She said,
Why can't prisons stop this happening? The authorities clearly aren't doing their jobs properly.
Just last week, Scotland's prisons watchdog said criminals should have phones installed in their jail cells so they can chat with friends and family.
HM Chief Inspector of Prisons David Strang, a former chief constable, expressed support for the installation of landline phones into jail cells, saying they would help inmates with rehabilitation by encouraging them to keep in touch with loved ones.
Landline phone access in a jail cell is one thing, but now, the UK's biggest and newest prison, HMP Berwyn, in Wrexham, plans to give inmates access to laptops, among other amenities.
The laptops, which don't have internet access, are only meant to be used to arrange visits, order meals and other necessities and help inmates complete any work related to their studies.
However, McCready's ability to connect to social media and harass people outside the prison raises many red flags for how these new systems will actually be incorporated into prison life.
Citations: Killer posts sick selfie of his feet from behind bars and boasts how he used them to brutally kick 13-year-old schoolboy to death (The Daily Record), Killer serving life for kicking to death a 13-year-old boy taunts his family by posting selfie of his feet and telling them they 'done yer boy' (MailOnline)