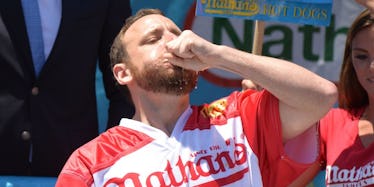 This Guy Ate More Hot Dogs In 10 Minutes Than I Have In My Entire Life
REX/Shutterstock
There's nothing more American than stuffing your face with food and calling it a competitive sport.
The 100th anniversary of Nathan's Famous Fourth of July International Hot Dog Eating Contest took place in Coney Island today and let's just say we have some stomach-churning, record-breaking news from the event. Elite Daily's own Alexandra Svokos ventured out to Coney Island, Brooklyn for a closer look!
Professional competitive eater Joey "Jaws" Chestnut reclaimed the hot dog eating championship from fellow food vacuum Matt "The Megatoad" Stonie. Chestnut, an eight-time champion, had been dethroned by 24-year-old Stonie in last year's event.
Allow me to refresh your memory:
This time, Chestnut made a statement by scarfing down a total of 70 hot dogs in 10 minutes. That's right -- 70. That's an average of 7 dogs per minute. I'm not sure about you, but I don't even think I've eaten 70 hot dogs in my entire life, let alone a single sitting.
Could you imagine?! *Barf*
According to Daily Mail, Stonie, who was defending the title, only managed to stomach 53 hot dogs. While that should have been more than enough hot dogs to seal the deal, Jaws wouldn't let up.
In a recent interview with ESPN, 32-year-old Chestnut revealed,
This year was the best year ever. It's amazing.
While you probably expected more words from the champ, you have to remember the dude is walking around with his body weight in hot dogs right now. If anything, he should be given a separate championship belt for his ability to form complete sentences after pulling off a wild stunt like this.
For a blow-by-blow account of events, check out Alexandra Svokos' snaps below!
History was made at the 100th anniversary of Nathan's Famous Fourth of July International Hot Dog Eating Contest. The event had great weather to match a great victory.
Professional competitive eater and eight-time champ Joey Chestnut squared up against Matt Stonie to reclaim the championship title.
Off to the races! Jaws effortlessly put down 20 hot dogs in just two minutes - with a vengeance...
At the halfway mark, Joey was in the lead with 40 dogs down the hatch.
As the competition neared the end, the eating champ got closer and closer to reclaiming the title against Matt Stonie. 60 HOT DOGS with just two minutes left!
Boom! Joey Chestnut reclaims the hot dog eating championship title against Matt Stonie by downing 70 hot dogs (with buns) in just 10 minutes.
In addition to Chestnut's mind-blowing performance, fellow competitive eater Miki Sudo retained the female championship title by devouring 38.5 hot dogs (with buns) in 10 minutes.
Ah, America - ya gotta love it!
Citations: Joey 'Jaws' Chestnut wins the hotly anticipated rematch against the defending champion at 100th Nathan's Famous July Fourth hot dog eating contest (Daily Mail)